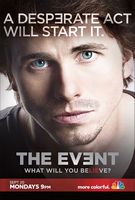 TV Info
---
Episode Premiere
March 21, 2011

Distributor
NBC

Genre
Drama, Thriller

Show Period
2010 - 2011

Production Company
Universal Media Studios, Steve Stark Productions


Cast and Crew
---
Director
Norberto Barba
Screenwriter
David H. Goodman, Nick Wauters
Main Cast
Additional Cast
Synopsis
---
At the National Radio Astronomy Observatory, two technicians notice irregular frequencies in the night sky. As one technician tries to decode the message, the second technician, named Anthony, shoots him in the head. Then Anthony calls Thomas and delivers chilling news: there's been a response to Thomas' satellite message. Something terrible has happened back home. At a children's park, Dempsey and a matron watch children playing. Dempsey points out one girl in particular and says she'd be perfect. The matron agrees to kidnap the little girl and says that more extract will be waiting for Dempsey later.
Sean ambushes Vicky at home and holds her at gunpoint. Sean tells Vicky that she must help him take down the evil people she works for, but Vicky is resistant. When Sean threatens to make public Vicky's mother's name as well as the name of Vicky's adopted child, Vicky's forced to collaborate. Vicky reveals that her mastermind boss is James Dempsey, a powerful billionaire who has mysteriously disappeared. She and Jarvis both tried and failed to stop Dempsey; what makes Sean thinks he'll have any luck? Meanwhile, Martinez tells his staff that the sleepers have the uranium rods and are still intent on bringing more of their people to earth. Martinez tasks General Armbruster with deploying Marines to search for Sophia in San Francisco. When Jarvis enters the discussion, it's clear Martinez isn't thrilled to see him.
Sophia tells Michael how angry she feels now that Thomas has tricked her and made her look like a saboteur in Martinez's eyes. Just then Thomas phones Sophia and says that in light of some new information, he and Sophia can't afford to be divided anymore. Thomas says, "The future of our race hangs in the balance." Thomas tells Sophia she and all of their people need to meet to hear the alarming details in person. At the White House, Martinez tells Jarvis to get lost. After what Jarvis attempted, Martinez wants nothing to do with him. Jarvis disregards Martinez's orders, threatening to reveal everything he knows to the public if Martinez challenges him. Just then Sterling and Armbruster interrupt with good news: they've tracked down Sophia's location.
Vicky reluctantly joins Sean on his mission to get to Jarvis. Vicky reveals that she knows the girls Dempsey was testing on were only half human. Vicky explains that Dempsey organized the assassination attempt because he didn't want Martinez to publicize the experiments or try to stop them. Sterling approaches Martinez in his office to express concern. Disregarding federal law in order to send Marines after Sophia - this behavior is unlike Martinez. Martinez acknowledges that his tactics are extreme, but he blames himself for being too trusting of Sophia. It's time Martinez showed everyone how tough he can be.
At a coffee shop, Sean shows Vicky a newspaper article that shows that Jarvis will be at a fundraiser at the Ambassador Hotel in Washington D.C. later that night. Vicky asks Sean to hack the guest list so they can get in too. Later, they break into the hotel room of a couple whose names are on the guest list - Ted and Vicky Fisk. Looks like Sean and Vicky are stealing some identities! At the Geller home, Diane and Carlos about the upcoming meeting with Thomas. Diane still doesn't trust Thomas, but Carlos argues that Sophia's reign is ending. Thomas gets a text with the location of the meeting. He tells Diane she can stay behind with Samantha and Leila. Leila overhears the exchange.
Sophia and Michael decide to go to Thomas' meeting, but outside the house, Marines with shotguns are assembling. At the last minute, Martinez tells his men to hold off on nabbing her. He wants her followed. Perhaps she'll lead to the rest of her people. At the Ambassador Hotel, Sean and a disguised Vicky sneak into the fundraiser. In the bathroom, Vicky assembles a plastic gun before meeting Sean in the lobby. Sean and Vicky corner Jarvis at the party, but he says he has no idea where Dempsey is and warns Sean about targeting such a powerful man. When Sean pulls the gun on Jarvis, Jarvis reveals that Dempsey has just left for the Jura mountain range in France.
Jarvis' security detail gets word that there could be an imminent threat against Jarvis. As they make their way to the Vice President, Seam and Vicky escape! Meanwhile Martinez and Sterling track Sophia and Michael as they arrive at L.A.'s St. Andrews Cathedral where the sleepers are congregating. Leila sneaks inside, unnoticed. Thomas tells the sleepers that they must unite. The message from their home is alarming; their planet's sun has started going supernova. In less than a year, their planet will be uninhabitable. Thomas says their only choice is to bring everyone to Earth. As this news sinks in, Sophia realizes that the church is surrounded!