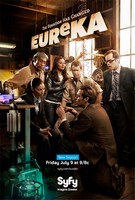 TV Info
---
Episode Premiere
July 16, 2012

Distributor
Syfy

Genre
Sci-Fi, Comedy, Drama

Show Period
2006 - 2012

Production Company
NBC Universal


Synopsis
---
Adjusting to reality after all of your friends have been turned into evil clones then returned to their normal selves is hard enough, but when everyone has to pack their life's work out of the facility and town that they've called home for so long, emotions are as volatile as some of the experimental weapons built in Eureka. Jo and Zane are holding back from telling each other how much they care, making the other think that they don't care, and Carter just seems pleased that he won't have to save the lives of hundreds on a weekly basis.
Fargo's despondence is ramped into anger when the Department of Defense movers show up, six weeks early. Zoe returns to say goodbye to everyone, and as Carter drives her back to town, they get a shortcut thanks to a passing wormhole and land right in the rotunda of GD, where Fargo has used a strong force amplifier to lock himself to the ground. He won't move until the DOD reverses their position.
Zane downloads some data regarding Grace and Old Henry, attempting to find a way to contact Beverly Barlowe so that she can free Grace. The data download will probably go unnoticed, since a new, unstable wormhole has appeared, and sliced off a piece of Parrish's skin as he walked through. When the slicing action happens again - this time to Andy - they realize it's because wormholes are appearing willy-nilly and intersecting with one another. An ill-packed piece of equipment is to blame, amplified by Zane's use of the quantum teleportation data stream (the location of the data on Grace and Beverly). The same data stream can be used to bring all the wormholes together, though, and cause them to implode and neutralize each other - theoretically.
But theory isn't practice, and the wormholes need another boost. Jack volunteers to take Fargo's strong force amplifier into the wormhole, a move that will either destroy him, save the town, or both.
As he flies through the wormhole, he sees visions of his past, his present… and could that be his future? His body slams down on the lawn beside the Archimedes statue, and Henry rushes to his side. Jack is safe, but Eureka is still being packed up.
Or is it? Fargo made a call to Trevor Grant, that founder of Eureka who hitched a ride through time with Jack and the others, and convinced him to invest in Eureka. Thanks to his significant foresight in the stock market, Grant has a lavish fortune to invest in the riskiest plan ever: a new Eureka, with Henry at the helm. Fargo is stepping down, since Holly, who has regained her love for Fargo, if not all the memories of their relationship, offered him a job on a top-secret project.
Henry's happiness is complete since his contact with Beverly was successful: she turned in Senator Wen in exchange for Grace. Jo proposes to Zane, and he wholeheartedly accepts. And Allison is thrilled that Jack wants to stay in the new Eureka, and adds to their happiness by telling him that she's pregnant.
As Jack takes Zoe to the airport, they pass a mysterious vehicle on the road. Looking closer, they see themselves entering the town on that fateful night when they first came to Eureka years ago. Seeing yourself from years ago is a strange sight in any place but Eureka.