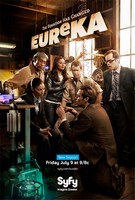 TV Info
---
Episode Premiere
July 02, 2012

Distributor
Syfy

Genre
Sci-Fi, Comedy, Drama

Show Period
2006 - 2012

Production Company
NBC Universal


Cast and Crew
---
Director
Mike Rohl
Screenwriter
Bruce Miller
Main Cast
Synopsis
---
Holly is attempting to re-enter life, but with a world of possibilities in front of her, she has no idea where to start. Zane offers her his lab to think things through, and while she's there, she gets a message from an unknown sender. Upon opening it, a flurry of diffractive patterns shines into her eyes. She blinks, and something's different about her. Zane comes in to ask what caused the irradience surge, and Holly replies that she saw nothing. As soon as Zane leaves, Holly calls in Andy and shows him the program she saw. It takes hold in his mind just as it did in hers.
On the other side of town, Carter and Jo have blocked out some time for damage control for Fargo's global warming solution prototype, Smart Dust. Since everything goes perfectly, they find themselves with the morning off, which is lucky, since they have to talk Henry down from turning himself in to protect Grace. When they arrange a meeting between the couple, Grace stills him, saying that another Henry, from another timeline, ushered her into espionage, not him.
Afterwards, Allison asks Henry to check in on Holly, who is jumping deep into body printing as a brand new career. He does, but when Allison checks in with him afterwards, he's cold and tells her only that the body printer has been moved offsite.
Carter is trying to solve the mystery of the now malfunctioning Smart Dust, which is interfering with every electrical frequency from cell phones to televisions, and could affect brain waves, if not stymied in time. Andy is leading Carter on a distracting tour of potential saboteurs, and tells him that his idea to track the interference is ridiculous, but when Carter finally runs the idea past Fargo, he thinks it's brilliant. Carter doesn't have time to solve the mystery of unhelpful Andy, however, because Fargo builds the tracker and sends Carter on his way.
Zane has denied Jo's pleas to get a list of the evidence being collected by Shaw on the espionage case, but he has corrupted some of the more sensitive files in a way that will keep her hands clean. She thanks him as he bends over the message Holly received, the one that caused the irradience surge, and Jo sees a familiar sight: the image of a hand on the screen, just like the one she saw when Holly was trying to escape the Eureka mainframe. She dashes away in response to a call from Carter.
In the forest, Jo calls Carter's name as mirror-like Smart Dust accumulates around her, and she comes face to face with herself. Not a reflection, but a copy, printed by Holly, real enough to knock Jo's lights out, then go back to GD to help Shaw arrest Zane for tampering with evidence just as he and Allison are piecing together the notion that something from the matrix is trying to escape, manipulating the Dust as part of some grand agenda.
Fargo's homing device leads Jack to the outskirts of town and finds the control unit for the Smart Dust. He also finds the unconscious bodies of Jo and Henry, and a body printer in the midst of printing a copy of himself. Holly appears with her gaggle of duplicates and knocks Carter out.