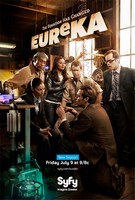 TV Info
---
Episode Premiere
August 27, 2010

Distributor
Syfy

Genre
Sci-Fi, Comedy, Drama

Show Period
2006 - 2012

Production Company
NBC Universal


Cast and Crew
---
Director
Chris Fisher
Screenwriter
Amy Berg
Main Cast
Synopsis
---
Zoe is back in town, and everybody wants to catch up with her, including Zane much to Joe and Carter's dismay. But Carter's woes don't stop there, Grant is putting the moves on Allison, so Carter finally steps up and asks her out. Jo, meanwhile, is furious after a paleontologist named Derek shuts down construction on her new home due to a scientific find: the pinky bone of an early hominid. Fargo calls Jo for emergency help: someone's onto the fact that Grant has a fake personnel file. They have no choice but to ask Zane for help figuring out who knows what. Zane agrees to help and discovers that it's the IRS making his life difficult, but when Grant receives a mysterious gift asking for a secret meeting, he discovers it's someone much more serious.
Grace and Henry have a party to celebrate their union. Grace has adapted a PTSD therapy to allow the two of them to share memories and rebuild their relationship. Grant shows up late, coming from a visit with Beverly Barlowe, who waited decades to ask him for his help. He's troubled by her news that the DED - a dangerous weapon with the power to nullify all electronics in a country - is being developed at GD. In true Eureka style, the machine malfunctions, and the General is furious.
After a brief visit with Allison, Carter responds to an emergency call from Andy, just as Tess arrives in Allison's lab. Carter, after watching the Da Vinci Bridge collapse, also finds Dr. Stark, Allison's ex, loose from his hole in space-time. He rushes to meet Allison at Cafe Diem where he finds Stark waiting as well. They discover that Carter is hallucinating Stark, just as Allison is hallucinating Tess. And Jo is "seeing" Zane, but his flesh-and-blood counterpart is seeing Zoe - romantically. Fargo's ghostly companion is a fifth-grade bully named Jessica Lansky.
The group heads to Henry's garage and discover that the hallucinations are caused by a power surge from Grace's adapted PTSD therapy devices, but since Grace and Henry's neural pathways were already occupied with the device, they weren't affected. As for the others, because the device was therapeutic in nature, they discover they have to move past their unresolved issues in order to get loose from the specters. Just then, Henry's garage starts to crumble around them. They start looking for something that might be interfering with the DED device to cause things like the garage and bridge to resonate and destroy themselves.
The DED device, meanwhile, won't cease its electromagnetic pulse, even though it's turned off, making it a hazard to Eureka and everyone in it. The General wants to remove it from the premises, and though Fargo protests, he crumbles under pressure, at which Jessica delivers a hearty dose of mockery. Based on the radius of the destruction, Carter deduces that someone must be targeting the DED, and goes looking for the source.
Meanwhile, Grant is having another meeting with Beverly Barlowe, where he hallucinates the image of his old friend Adam - Beverly's father. Beverly enlists his help stealing the DED by using the argument that the weapon is too powerful and must be destroyed and as the device is transported by the General, they achieve their goal. This loss spurs Fargo to stand up to the General, a move that causes his nemesis, Jessica, to disappear. And Jo, realizing that her relationship with Zane was a mistake, throws the engagement ring at Zane as she tells him off, but it turns out to be the real-world Zane.