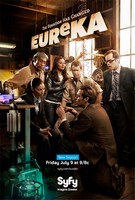 TV Info
---
Episode Premiere
August 07, 2009

Distributor
Syfy

Genre
Sci-Fi, Comedy, Drama

Show Period
2006 - 2012

Production Company
NBC Universal


Cast and Crew
---
Director
Mike Rohl
Screenwriter
Bruce Miller
Main Cast
Synopsis
---
The day starts innocently enough as Zoe shows Carter how Eureka's new Smart Asphalt can control her car. As she leaves, Carter admires Deputy Lupo's new cruiser, a decked out Subaru Impreza. When Fargo pulls up in his old car Tabitha, his envy is palpable and he decides it's time for a change.
Later, an abrupt rocket explosion sends Carter to GD where he finds Tess confronting the culprit, Dr. Wyman. Allison defends Wyman who is preparing to defend Eureka from the unidentified Signal that is fast-approaching Earth.
Carter returns to his office - and a new crisis. People are reporting thefts of a weird assortment of items. Oddly, Ranger Tom found all of them in a remote field, arranged in a Stonehenge-like ring which Tess and Zane determine is the beginning of a huge plasma generator. It could be a powerful weapon so Carter and Tess question Allison about Wyman's activities. That evening, Carter sets up a stakeout at the ring. Tess joins him but, instead of the lone perpetrator they expect, they see dozens of teens, all in a trance-like state, adding items to the structure. In the morning, the teens appear normal but Henry takes brain scans and discovers strange activity. Allison wants to dismantle the tower but Zane fears triggering a disastrous explosion.
While Fargo and Larry engage in car wars, Allison tracks the incoming object and while Carter, Henry and Tess try to learn what force made the teens build the tower. As night falls, the ring exerts its pull. First teens, then adults arrive and add to the tower. Then their creation begins to hum. In a Close Encounters moment, Carter, Allison, Henry and Tess realize that the impetus to build it did not come from Earth. It came from the unknown object. What happens when that object arrives, defies all logic. And the origin of its creation will shock them all.