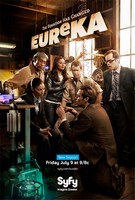 TV Info
---
Episode Premiere
July 24, 2009

Distributor
Syfy

Genre
Sci-Fi, Comedy, Drama

Show Period
2006 - 2012

Production Company
NBC Universal


Cast and Crew
---
Director
Steve Miner
Screenwriter
Thania St. John
Main Cast
Synopsis
---
A series of mysterious events takes place after Dr. Drechmeyer is contacted by his late mother, a famed clairvoyant. He begins to think that the readings on his new energy-measuring device indicate the presence of ghosts. His lab partner and ex-wife, Mary-Beth Curtis, fears his obsession will cost them their funding, but something strange is happening. Carter finds a car parked in the middle of the road, but its driver--the spirited and beautiful new arrival, Dr. Tess Fontana denies leaving it there... and she leaves Carter annoyed, yet intrigued.
Meanwhile, Carter's sister, Lexi, enjoys her new "Invis-Apparel" maternity shirt courtesy of GD, which completely hides her pregnant tummy. It also proves useful when the twins' world-traveling father arrives in town unannounced. Lexi hides her condition, not sure that Duncan is fatherhood material, much to Zoe's disapproval.
Later, at Cafe Diem, Carter finds a highly agitated Drechmeyer claiming the high readings he sees prove the spirits are active. Suddenly, various objects begin to fly about and Carter has to tackle Tess Fontana to keep the espresso machine from decking her. Then, to Carter's surprise, Allison arrives and greets Tess with open arms. They are old college friends and she's been brought in for a secret project.
Following another energy burst, Allison admits that GD has decided to re-open Section 5 under Fontana's oversight. And she wants Carter and Tess to work together to solve the paranormal activity - even though they clearly can't stand each other. When Tess gives Carter a tour, they encounter a strange device, and some odd sensations, in one of the labs. Leaving the area, they realize that no one can see or hear them. Are they dead? Tess believes they've somehow crossed into another dimension. Returning to the lab, they find Dr. Johnson recovering from an unsuccessful attempt to break out. His research on inter-dimensional travel created a temporary door into the Fifth Dimension. Unless they can re-calibrate Johnson's device before Henry and Allison unknowingly shut it down from the other side, the trio could be trapped inside forever.