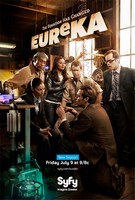 TV Info
---
Episode Premiere
September 05, 2006

Distributor
Syfy

Genre
Sci-Fi, Comedy, Drama

Show Period
2006 - 2012

Production Company
NBC Universal


Cast and Crew
---
Director
Mike Rohl
Screenwriter
Johanna Stokes
Main Cast
Additional Cast
Robert Clarke
Sean Devine
Alex Diakun
Synopsis
---
After reminding Zoe to attend her afternoon therapy session with Beverly Barlowe, Jack sends his rebellious daughter off to school. Then he faces up to a string of computer failures that are plaguing the town. Streetlights, heating systems, and even a farmer's electric fence are all out of whack, and the glitches might soon grow more serious - even dangerous.
When Henry discovers that a sophisticated virus is causing the problems by infecting Eureka's private computer network, Jack and Allison deem it entirely non-coincidental that Callister Raynes, a controversial young computer programmer, has just returned to town after a mysterious absence. Raynes used to be Stark's assistant on a top-secret project until a catastrophic lab fire destroyed all their work. Many people suspected Raynes of starting the fire, but Stark inexplicably defended him. The enigmatic young man left town soon afterwards.
Deputy Lupo believes that Raynes is innocent - but then again, she once had a steamy relationship with him, so she might be slightly biased. Still, she reluctantly helps Jack with his investigation, but they can't learn much because all the relevant information has been destroyed or classified. To make matters worse, they soon discover that they have a second, unrelated crime to deal with: months earlier, when Zoe moved to Eureka to live with her father, she stole a credit card to pay for her bus ticket.
Furious, Jack races to Beverly's, where he finds Zoe hanging out with Raynes. Zoe stands up to her angry father by insisting that she only committed the crime because she wanted so badly to live with him, but Jack's in no mood to be touched by his daughter's bizarre way of showing her affection. His wrath impels Zoe to run away.
After Jack and Zoe storm off, Stark turns up at Beverly's to visit Raynes. Stark has barely arrived before another computer glitch causes a major electrical fire to break out in the room. Beverly, Raynes and Stark escape, but as Henry arrives with his high-tech fire-fighting equipment, the Stark and Raynes slip away.
Now sure that the computer problems are Raynes's fault, Jack and Allison track him to an elaborate laboratory hidden in a run-down section of town. There, Stark reveals Raynes's true, astonishing identity. But once his secret is out, Raynes escapes - and before Jack and Stark can catch him, he joins forces with another fugitive: Zoe.