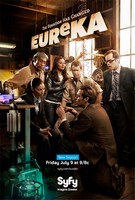 TV Info
---
Episode Premiere
August 01, 2006

Distributor
Syfy

Genre
Sci-Fi, Comedy, Drama

Show Period
2006 - 2012

Production Company
NBC Universal


Cast and Crew
---
Director
Michael Robison
Screenwriter
Karl Schaefer, John Rogers
Main Cast
Additional Cast
Samuel Patrick Chu
Ryan Vrba
Ken Yanko
Tamlyn Tomita
Synopsis
---
World-renowned scientists Jason Anderson and his wife Kim visit Eureka to complete a critical project for the U.S. military. With Kim's assistance, Jason has invented a force field that protects troops from bullets or flame - in theory. In practice, the test dummies keep getting incinerated. Because the couple's deadline, a critical field test, is fast approaching, they're under a lot of pressure from Global Dynamics' director of research, Nathan Stark.
Regardless, Henry is thrilled to welcome his two old friends to town - especially Kim, with whom he once had a "special relationship." Jack, however, is put off by Jason's arrogance. In fact, later that day, Jack discovers evidence that he has issued Jason a speeding ticket - but Jack has no memory of the incident. When Henry experiences a similar loss of time while helping Jason with research, he and Jack both become suspicious. Joined by Lupo, they confront Jason in the town's cafe - but an instant later, Jason has vanished, Henry's been shot, and Jack's holding the smoking gun. No one in the cafe can recall what happened. As for Jack, Henry and Lupo, they have absolutely no memory of what they were doing there in the first place.
Allison strips Jack of his gun and suspends him until they can figure out what happened. At home, with some unintentional inspiration from his daughter Zoe, Jack guesses that someone in town is messing with people's memories. After he again discovers the mysterious speeding ticket, he accuses Jason of being the culprit, but the scientist coolly laughs him off. Allison and Stark are left to wonder if their new sheriff, who's apparently shooting townsfolk and raving about memory-control devices, is sane enough for the job.
But Jack's not alone. Kim, moved by her reunion with Henry to think back over her marriage, recognizes too many moments that might not have occurred exactly as she remembers them. Henry, also, recalls that he and Jason once theorized about an electromagnetic device that could erase short-term memory, but they never created a working prototype - at least, not as far as Henry can recall....
In fact, Jason's been manipulating minds with just such a device for years. His memory abuses even broke up Kim and Henry's romance. Jack, Henry and Kim have discovered Jason's dangerous secret. Now they must find a way to remember it long enough to stop him.