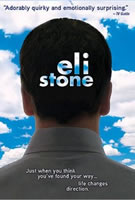 TV Info
---
Episode Premiere
October 28, 2008

Distributor
ABC

Genre
Drama, Comedy

Show Period
2008 - 2009

Production Company
Berlanti Television, Touchstone Television


Cast and Crew
---
Director
Vincent Misiano
Screenwriter
Andrew Kreisberg, Leila Gerstein
Main Cast
Additional Cast
Synopsis
---
Jordan has to intervene when Taylor and Eli argue heatedly in his office over how to defend him against Martin and Marci's claim that post traumatic stress disorder makes him mentally incompetent to run the firm. Jordan agrees with Eli that he should testify on his own behalf. On the way home, Eli steps onto a trolley car, but finds himself on a subway car, speaking to a vision of Jordan, who's chastising him for not being prepared enough. Eli's not sure what he's talking about. When the two men emerge from the subway station, they find themselves in front of the Supreme Court.
Taylor overhears Tommy complaining about the staff's pay to Matt and Keith, asserting that Matt is "sleeping with the enemy." Matt remains silent as Keith defends Jordan vehemently. Taylor is furious with Matt for his silence. Matt reiterates to Taylor Eli's earlier advice that because she's Jordan's daughter, her position as one of her father's defense lawyers weakens his case.
While Nate tries to convince Eli that his vision might actually bring him in front of the Supreme Court, he lets it slip out that because of his brief experience with the visions, he's begun volunteering at a free clinic. He wants Eli to see a 6 year-old patient of his who might be suffering from lead poisoning. Eli tells Nate she doesn't have a case, but as he crosses the street, he crosses into another vision: he's in front of the Supreme Court with Jordan. Jordan reveals they're in front of the Supreme Court to argue about the lead paint case. Eli snaps back into reality when Nate grabs him. Nate knew he'd take the case based on their father's journal. Eli argues that he doesn't want to live his life based on his father's crazy journal.
Nate brings the journal to Chen and shows him the words "Eli," Kim," and "Nurhachi." Chen studied acupuncture under Nurhachi, who taught him a technique called "the dark truth." Eli begs Chen to perform it on him. Despite his misgivings, Chen performs the procedure, which transforms Eli into the new offices of Posner and Klein, six months into the future. He sees Matt, who tells Eli he lost Jordan's mental competency case because of something crazy he did.
Eli immediately informs Jordan he must withdraw from the case and let Taylor handle it. Taylor tries to reassure Jordan she can deal with the case, but Jordan is unsure. After Patti chastises Eli for walking away from Jordan's case, Eli enlists Maggie's help in dealing with the lead paint case. At the same time, Taylor takes Keith off of a case he's working on with Matt in order to replace Eli on Jordan's.
Six year old Leesie Kim's parents explain her symptoms to Eli, Nate and Maggie. They explain that her medical bills are incredibly expensive. Eli tells them no one has ever won a lead paint case before because most buildings have been painted several times over by paint from different manufacturers. His solution is to sue all the paint manufacturers.
Outside of court, Eli discusses strategy with Maggie. Before entering, standing next to Taylor and Keith, Eli sees Jordan, who gives him a disappointed look.
Taylor battles vigorously in court against Martin and Marci, who surprise Taylor by calling Ellen Wethersby to the stand. At the same time, Gibbons, the lawyer arguing against Eli's lead paint case asks not only for the case to be dismissed, but for sanctions to be placed against Eli regarding his mental health. The judge gives Eli 24 hours to prove he has a case.
Over Taylor's objections, Marci questions Ellen in the witness stand. Ellen testifies that Jordan has been acting different since the bank accident. Marci chides Ellen into also admitting that Taylor had expressed concern about Jordan's behavior since the accident. Facing defeat for the day, Jordan insists that he take the stand the next day.
That night, Eli recounts his visions to Jordan and why they led him to leave the case. Jordan explodes, out of patience hearing about Eli's visions. In turn, Eli yells back that he never told Jordan to get into a war with Posner and Klein. Eli walks out of Jordan's office and into another vision; he's inside the empty chambers of the Supreme Court. In the vision, Jordan is excited to argue their case in such a high court, but reveals that Martin and Marci are representing the paint companies. Eli grabs the case files out of Jordan's hands and reads furiously, finding out just enough about how to beat Gibbons before his vision ends and he finds himself back in the office.
In court the next day, Eli tells the judge he's suing the paint companies under the Public Nuisance Doctrine instead of as a product liability claim. This allows the case to go forward without causation and without application of the statute of limitations. The judge allows the case to go forward and denies Gibbons' request for sanctions against Eli.
In the other courtroom, Jordan testifies on his own behalf. He argues his recent behavior isn't an indication of insanity, but rather a result of a moment of clarity. Martin grills him, forcing Jordan to admit Eli was his inspiration for dumping their less scrupulous clients. Martin then produces evidence that Eli believes his actions are inspired by God.
Gibbons offers the Kims and Eli a settlement of a half million dollars, plus a promise to keep the settlement confidential. After Gibbons leaves the room, the Kims are eager to take the deal, but Eli tries to convince them to turn it down. The Kims ask for time to think about it. Eli is exasperated, since accepting the deal would disallow them to help all the other little Leesies of the world. Maggie sides with the Kims, but Eli wants to look in his father's journal for answers.
Sitting in his office with Keith, Jordan feels the case is lost and wallows self-pity and a glass of scotch. He shows Keith the mission statement he wrote with Martin and Marci when they launched the firm Keith suggests they could use the document in their case.
Eli visits Chen and asks for the journal. Chen warns that Eli doesn't want to know what's in the book, and before giving the journal up, tells Eli that if he wants to help Jordan, he should just be there for him.
The next day, Jordan again takes the stand. Eli arrives in the courtroom just in time to hear Jordan explain that Eli simply reminded him of the firm's original mission statement. Jordan delivers an impassioned speech about the compromises they've made over the years, and how he simply wants to make things right.
Back at the firm, Jordan congratulates Eli on winning his case, although the Kims decided to accept the settlement. Eli congratulates Jordan on winning his competency hearing, although taking the case to court lost Jordan the support of the firm's board. He was voted out as managing partner. However, Jordan realizes if Eli had been on his case, he'd have lost and been branded a psychotic. He's happy to call Eli a friend, and proposes founding a new firm with Eli.
In order to keep his confidentiality agreement but still have the lead paint case move forward, Eli gives the case to another lawyer, Jeffrey Powell. Powell is shocked, but accepts the offer.
Martin and Marci offer Jordan a place at the firm, but he refuses. Taylor enters to inform the three partners that Jordan's name is the only one on the title to the firm's building. Jordan is happy to give Martin and Marci a week to vacate the building.
Eli visits Chen's roof to return his father's journal. He explains that he hasn't read the journal because he doesn't want to live his life according to it. Bravely, Eli throws the book into the burning fireplace. Chen smiles and tells Eli he's going to change the world.
Walking down the street, Eli walks into another vision. He sees Jeffrey Powell in the Supreme Court chambers, and is shocked to see Maggie representing Posner and Klein on behalf of the lead paint manufacturers.