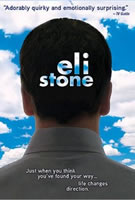 TV Info
---
Episode Premiere
October 14, 2008

Distributor
ABC

Genre
Drama, Comedy

Show Period
2008 - 2009

Production Company
Berlanti Television, Touchstone Television


Cast and Crew
---
Director
Perry Lang
Screenwriter
Marc Guggenheim, Andrew Kreisberg
Main Cast
Additional Cast
Debrah Farentino
Dakin Matthews
Conor O'Farrell
Ajay Mehta
Michael Rothhaar
Alice Dodd
Marc D. Wilson
Angela Sargeant
Jack Axelrod
David Jahn
Christian J. Meoli
Synopsis
---
Eli Stone finds himself speaking to his psychiatrist of three months, a pleasant woman who's evaluating whether he's mentally competent to get his legal license back. He is uncooperative at first and begs her to just sign his "permission slip." Instead, she asks Eli to describe his first week back at work. Eli sounds miserable but insists everything is fine. The psychiatrist is unconvinced but sympathetic, so she signs the paper. But before Eli leaves, she tells him what he's really missing in his life are the wild and fantastic things he had experienced due to his pre-surgery visions.
Meanwhile, at the hospital, Nate is about to see a patient. However, instead of walking into the patient's room, he walks into a bank. Confused, he looks up just as a gigantic crane falls through the bank's skylight. Nate screams in terror only to find himself back in the patient's room. Nate realizes he just had a vision exactly like Eli's.
Nate visits Eli and recounts his experience. Eli presses him for more details, believing a crane will actually fall onto a bank. Nate leaves, frightened. Concerned, Eli pays a visit to Dr. Chen. While the men discuss what Nate's vision might mean, we see Jordan walk into the bank from the vision -- just before a gigantic crane falls onto it!
Eli enters his office to find his co-workers watching the aftermath of the bank accident on television. Taylor and Ellen are terrified about Jordan's fate. Eli tries to console them, but Matt steps in and warns Eli to keep his distance.
Through acupuncture, Dr. Chen helps Nate recall where in the building Jordan might have been when the crane collapsed. Nate visualizes a meeting in a conference room between Jordan and some bank executives who want to foreclose on homeowners. Jordan tells the bankers he's decided not to represent them, calling them "pond scum." Nate sees Jordan walk out of the room with a smile on his face. Instead of taking the elevator down, Jordan takes the stairwell -- then the crane collapses. Nate wakes up from his vision and tells Eli where they should search for Jordan.
At the accident scene, Eli and Nate attempt to convince the rescue workers to search in the area of the stairwell. The rescue lieutenant refuses to listen, believing nobody was in that part of the building. Taylor and Matt see Eli and ask what the hell he's doing there. Eli says he intends to get an injunction to make the rescue workers stop their efforts and instead search the stairwell area for Jordan. Taylor, upset, screams for Eli to leave.
Back in the office, Eli and Nate discuss how to get the injunction without Taylor's permission. Just then, Maggie brings Ellen in. Maggie had explained to Ellen how Eli's visions saved her fiancé during the earthquake. Now Ellen wants him to do the same for her husband.
When Eli and Maggie go to court to ask a stunned Judge Phelps for an injunction to stop the search and rescue team, Taylor, Matt and Martin storm into the courtroom to announce they're representing the city and intend to fight Eli's request. As court is in recess, Taylor asks Eli how he can be so sure about this vision. Eli can't answer and the two argue. They're interrupted when Nate collapses.
Eli sits by Nate's hospital bed as they wait to see if Nate's MRI shows an aneurysm. Just then, Eli gets a call from a Dr. Bergman, who warns that Eli is not allowed to practice law until he has signed off on his mental competence. Eli tells the man his psychiatrist had signed his "permission slip" that morning. He reaches into his pocket to inspect the document. No signature. Eli rushes to his psychiatrist's office and finds it is empty and has been unoccupied for a long time. Was this psychiatrist he'd been seeing for three months just a vision?! As this realization sinks in, his "psychiatrist" re-appears and tells him he needs professional help.
The "psychiatrist" tells Eli she is working on God's behalf and explains Nate has the aneurysm now because Eli had his removed. Higher powers have deemed that at least one of the brothers must have it. Eli begs her to spare Nate, to give the aneurysm back to him. She grants Eli's wish but says, "if we're gonna dance again, you have to lead."
Back in court, Judge Phelps is about to rule against the injunction when Eli bursts in and speaks emotionally to the court about his newfound faith in his visions. Judge Phelps sympathizes with Eli, but the law compels her to rule against him; she finds in favor of Taylor. Outside the courtroom, Eli pleads with Taylor earnestly to believe in him. Despite Matt and Martin's protests, Taylor calls the rescue lieutenant to stop their work and begin searching the stairwell area. Sure enough, they find Jordan injured but alive and take him to the hospital.
When Nate tells Eli that his MRI showed no aneurysm, Eli asks for a new MRI on himself. The doctors and Nate are shocked to find Eli's aneurysm is back, but Eli is relieved. Everything is as it was before his surgery.
After making up with Taylor, Eli visits Jordan's hospital room. Jordan confides that right after he walked out on the bankers, he intended to see Eli. Eli asks, "About what?" Jordan smiles and replies cryptically, "I know what we need to do now."