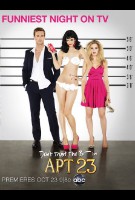 TV Info
---
Episode Premiere
May 23, 2012

Distributor
ABC

Genre
Comedy

Show Period
2012 - 2013

Production Company
20th Century Fox Television


Cast and Crew
---
Director
Wendey Stanzler
Screenwriter
Casey Johnson, David Windsor
Main Cast
Additional Cast
Synopsis
---
June is thrilled to be hanging with the coolest girl in the world. Such an undertaking means doing shots to the point where you need to have your stomach pumped for alcohol poisoning. Robin lets June know that she can't drink for the next six months. That'll make it hard to party with Chloe, who is apparently a hero to many Japanese comic book fans. They are always coming up to her saying "shitagi nashi." It's a catchphrase from a graphic novel called Tall Slut, No Panties. The main character is based on Chloe.
June worries that her new "cool girl" status will fade fast thanks to her inability to down shots in rapid succession. She's relieved to find Chloe has hidden stash of graphic novels. Her roomie had previously claimed to be indifferent to the whole shitagi nashi craze to appear cool. June shows Chloe her own comic book called The Adventures of Trina and Sissy. Okay, it's not really a comic book. It just a handwritten stories in a notebook. Chloe promptly sets June's creation on fire.
June believes she and Chloe have more in common than just drinking. She invites her to go bowling. Instead, they end up at a club where June meets the creator of Tall Slut, No Panties, Patrick Kelly. The guy is the roommate of a hot guy Chloe dates from time to time. Patrick watches her from afar whenever she goes out with his buddy. June points out how said that is as she realizes she does the same thing with Chloe.
Chloe is upset when Patrick comes out with a new graphic novel titled Strong Bowling Girl Talks A Lot. The hero of the story goes around Manhattan bowling and giving people pep talks. Chloe is so devastated by the demise of her character that she actually starts wearing panties. Yes, her wounds run deep. James explains that Chloe is just worried that being the "it" girl is a fleeting thing. That's why the graphic novel was so important to her. At least she'd be remembered.
June creates a new issue of Trina & Sissy with special guest star Tall Slut, No Panties. She tells Chloe that she can burn it if she wants. That's not going to happen. Chloe says she'll keep it in case she ever needs to wrap a fish or something. She assures June that they don't need to have anything in common to be friends. Then she takes off her panties so she can finally breathe again.
James is psyched because Luther got first pick of dressing rooms for the New York rehearsals of Dancing with the Stars. His enthusiasm fades when he learns Dean Cain's dressing room has an extra third of a ceiling title. Luther has made his first mistake as an assistant. He tries to make it up to James by orchestrating a plan to con Cain out of his room. It doesn't fly. Luther fears his job may now be in jeopardy, but James has other ideas. He simply breaks the wall leading into Fred Savage's dressing room to give him a bigger space. Nice.