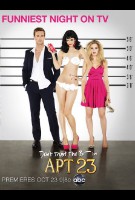 TV Info
---
Episode Premiere
May 16, 2012

Distributor
ABC

Genre
Comedy

Show Period
2012 - 2013

Production Company
20th Century Fox Television


Cast and Crew
---
Director
Nanette Burstein
Screenwriter
Billy Finnegan
Main Cast
Additional Cast
Hartley Sawyer
Shanti Lowry
Eve Gordon
Rosalind Chao
Synopsis
---
June is in spring cleaning mode. Unfortunately, she can't use the feminine wash Chloe picked up to polish the shelves. June donates lots of her roommate's old stuff to her Korean church's rummage sale. Afterwards, she daydreams about the cute guy who comes into the coffeehouse while in a warm tub. Okay, she does more than just daydream under all those tub bubbles.
June is mortified when Chloe catches her rub-dub-dubbing herself in the tub. She admits to having a crush on the handsome "soy latte" guy with great abs. Too bad the hot stud is dumb as a brick. That's why June can't get involved with him. Chloe encourages her to have casual sex with the guy. June is worried that she'll be bad at it, so Chloe offers to show her a sex tape she made with James to brush up. Unfortunately, it's one of the items that got donated to the Korean church.
While working with his Dancing with the Stars partner, Valentina, James gets a call saying that the sex tape is about to be released. James' adviser (his mom) says that he should get onboard with the free publicity this will generate. Robin serves as his focus group. She notices that he licks his lips repeatedly. The video distribution company will allow James to lose the lips if he does some reshoots. Chloe is initially reluctant to participate, but agrees to help out as long as she's really drunk. That'll certainly help with continuity.
June ends up having casual sex with soy latte guy. She sneaks away during the night just like Chloe had advised her to do. This leads to what June thinks is a next-day booty call. As it turns out, soy latte guy only needed someone to comfort him after his beloved parrot, Judy, flies away. June ends up being the shoulder for him to cry on. It's a very relationship-y thing to do. Chloe is extremely disappointed. She smashes June's cell phone so she can stop sending the guy texts. She then smashes a stranger's cell, though we're not sure why.
Chloe steps in to dump soy latte guy for her roommate. She doesn't understand why June has to attach feelings to sex. All that changes when she tries to make the tape with James. Neither of them can go through with it after they realize they actually care for each other. Chloe is furious. Thanks to June's influence, she actually cares. She's ruined! She also finds soy latte guy's parrot for him. That doesn't mean June will be getting back together with him. She'll just see him in the tub.