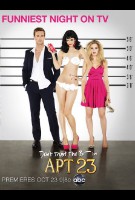 TV Info
---
Episode Premiere
May 09, 2012

Distributor
ABC

Genre
Comedy

Show Period
2012 - 2013

Production Company
20th Century Fox Television


Cast and Crew
---
Director
Michael Spiller
Screenwriter
Corey Nickerson
Main Cast
Synopsis
---
June is worried because she won't be able to make rent this month. Chloe can't make rent either. That's why she's running another roommate scam. June promptly puts the kibosh on her plans. Chloe asks James for a loan, but now it's Luther who impedes her chance at a financial bailout. That's only because she's already borrowed over $20,000 from his boss. Luther is also holding a grudge against Chloe for never reading his play.
June misses the sense of community she used to have back in Indiana, so she's been attending a local church. Make that a local Korean church. She has no money for the collection basket, so she donates some of her homemade jam. Once June learns how popular her jam is, she realizes she can sell it to pay the rent. Chloe agrees to help her in this venture. June is horrified to find out why.
As it turns out, Chloe had Eli rig cameras throughout the kitchen to capture the two beautiful roomies playfully make jam together. She then put the footage on a sexy website titled "Jammin' June's Jams." Who knew there was a market for folks with a fruit fetish? They stand to make a fortune. Unfortunately, Chloe had no idea that Eli set up a 60-day free trial period.
June tries to sell the jam at the coffeehouse. Too bad the health inspector, who happens to be Eli, confiscates all her inventory. He happens to know that this particular jam was made in some very filthy conditions. June is now officially desperate for money. She's so desperate that she resorts to charging Robin some pretty hefty prices for access to the object of her obsession. As for Chloe, James advises her to use her smarts to figure out a way to come up with her share of the rent.
James has launched a new line of super-tight jeans. He's calling them Beek Jeans. The billboard that advertises his new pants is next to one where a chef is pushing some meatballs. It appears as if he's very excited to see a different kind of meatballs, the ones in James's jeans. It's all good. The jeans are a hit with the gay community. This causes a ripple effect that makes James gobs of money.
June doesn't feel good about what she's doing to get her share of the rent. She confesses her scam to Chloe. The two roomies realize they are each having an effect on each other. Chloe is starting to actually feel guilty about some of her scams. For instance, she loosened the railing in James's place so she could sue him after taking a fall. That never happens since Robin is the one who takes a spill after paying to give a public toast to Chloe. In light of her injuries, June agrees to waive her fee, which is nice.