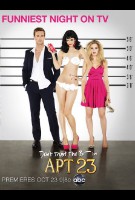 TV Info
---
Episode Premiere
May 02, 2012

Distributor
ABC

Genre
Comedy

Show Period
2012 - 2013

Production Company
20th Century Fox Television


Cast and Crew
---
Director
Chris Koch
Screenwriter
Casey Johnson, David Windsor
Main Cast
Additional Cast
Synopsis
---
If you told a 12-year-old June that she'd one day be at a fancy wedding making out with James Van Der Beek while Kevin Sorbo watched, she'd have told you that you were nuts. Then why exactly did this event actually take place? Let's jump back three weeks to find out.
June and Stephen agreed to split up any future social engagements after they broke up. That's why she's not looking forward to attending an upcoming wedding on her own. Chloe believes her roomie lacks confidence. That's why she teaches her how to be a New York bad ass. June turns out to be an ace student. She's oozing confidence. James is so impressed with the new June that he takes her to a launch party for some new vodka. This doesn't sit well with Chloe. She's James' steady date for things like that.
James busts out some slick moves at an event celebrating his casting on Dancing with the Stars. Guess who he picks as a dance partner out on the floor? Hint: it's not Chloe. Needless to say, our favorite brunette from Apartment 23 is not happy. It leads to a big argument that only gets worse when Chloe learns James is going to be June's plus-one at the wedding.
The bride is thrilled to have a celebrity guest at her wedding, especially since James is her freebie. James says, "Ah, freebie. Yes, the one exception to the marriage vow. The greatest responsibility that comes with being a celebrity." The groom's freebie is Peri Gilpin, in case you were wondering. Think anyone in the room has Kevin Sorbo as their freebie? We ask because he happens to be the date of party crasher Chloe. She tricked his publicist into thinking he was attending a benefit for MS.
There are a few others surprises at the wedding. Eli's band is performing as the live entertainment. The other shocker is the fact that Stephen is one of the guests. Chloe intentionally forgot to tell June he was coming. That's cool. The old June would have crumbled, but the new June takes everything in stride. This is a total turn-on for Stephen, who ends up sucking face with his ex in a backroom. June puts a stop to the interlude when she realizes he's cheating on someone. That's exactly why they broke up. Actually, Stephen claims the real reason they broke up is because June was boring. Ouch!
June is crushed by this news. Chloe initially intends to gloat, but opts to help her roomie rebound instead. She enlists James (who just finished hooking up with the bride) to help pull off the least boring scene the history of a wedding filled with clueless guests from the Midwest. It's a truly memorable moment when James fights for June's love while simultaneously asking for Dancing votes. As we mentioned earlier, all this goes down while Kevin Sorbo watching. The trio then abruptly leaves the party with everyone believing that James Van Der Beek and the city of New York find the new June irresistible. Love it!