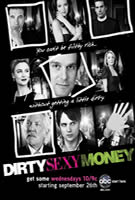 TV Info
---
Episode Premiere
October 29, 2008

Distributor
ABC

Genre
Drama

Show Period
2007 - 2009

Production Company
Berlanti Television


Cast and Crew
---
Director
Jake Coburn
Screenwriter
Bob Berlinger
Main Cast
Additional Cast
Synopsis
---
The Georges sit in counseling as Nick's cell phone continues to ring... each call from a different Darling -- much to Lisa's frustration. Nick eventually leaves to take the call of Brian Jr. as he is negotiating his recent move back to New York.
Letitia corners Nick and asks to be excused from her house arrest... to which Nick says no. Jeremy steps in and offers his help. Later, Jeremy speaks with Nola Lyons (in the shower) and again asks if his mom can attend his brother's campaign party.
Meanwhile, Karen stops at Simon Elder's office, where he breaks up with her in front of a series of Asian businessmen because she has yet to say yes to last week's proposal. She leaves shocked and hurt. Naturally she shows up at Nick's office and asks for his help. He later talks to Simon, only to learn that Mr. Elder only wants to marry Karen so that he can take over Darling Enterprises. Patrick remains holed up in a hotel with Carmelita, happy to finally be alone with the one he loves. At the Darling Entreprises building, he later suggests going public with his lady-man friend and is shot down by Tripp. Nick supports Tripp's stance, causing even more hostility between the Darling men. And just as the three are about to finish their fight, Chase Alexander (Ellen Darling's brother) storms in and accuses the Darlings of murdering his sister... and then is dragged out of the building by security.
Lisa George attempts to rent out a SoHo gallery for her new art venture and is promptly shut down for not having the right A-list contacts...Nick later meets Chase Alexander and hears Ellen's brother's version of what he believed happened... which is eerily accurate. Chase threatens to ruin Patrick's campaign by going to the press and storms off. Nick tells Tripp, who naturally suggests that Chase should be paid off. Nick, of course, refuses but caves after hearing Tripp's words. He then offers Chase a significant place in Darling Enterprises. Chase also initially rebuffs the offer but caves under the weight of the Darling fortune.
Nick calls Patrick with the gist of Chase's threats. Carmelita overhears the conversation and demands to know what is really going on. Patrick brushes off her concerns and asks her to trust him.
Lisa runs into Jeremy Darling outside the polling station and learns that he's moved on... though cannot tell with whom. She spills her guts on the mishap at the gallery, and Jeremy offers to help. Lisa later tells Nick of Jeremy's offer during lunch but he angrily shuts it down and storms off, leaving Lisa in tears.
Lisa returns to the gallery and is this time received warmly by the real estate agent... only because Jeremy Darling set up the finances. She backs away, but is soon wooed by the youngest Darling back into the art world.
Andrea calls Brian and frantically asks if he has Brian Jr. Both parents suspect that BJ has run away... again. The littlest Darling eventually shows up and said he went to Coney Island because he was sick of his parents fighting.
Tripp pays Carmelita a visit and scares her away from his son with the truth about Ellen's death. Carmelita later confronts Patrick and tells him that she can't be with a man that is so dishonest. The family throws Patrick's election party at their mansion so that Letitia can attend... a fact that does not go unnoticed by Nick, who later asks Jeremy about his connection in the District Attorney's office. Karen corners Nick at the party, only to learn the truth about Simon Elder... that she totally ignores.
Patrick confronts Tripp about his discussion with Carmelita, irate that his father stepped in once again "to ruin his life." Tripp tries to explain what happened with Carmelita, but Patrick won't hear it. Nick attempts to come to Tripp's defense, but nothing works. As Tripp pleads his case, he becomes more and more pained. Tripp grabs his arm and collapses on the floor... because he just suffered a heart attack. Tripp is sent to the hospital and forced to stay bedridden. Meanwhile, Patrick wins the Senate seat, and Karen says yes to Simon Elder's proposal.