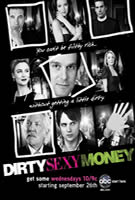 TV Info
---
Episode Premiere
October 01, 2008

Distributor
ABC

Genre
Drama

Show Period
2007 - 2009

Production Company
Berlanti Television


Cast and Crew
---
Director
Jeff Melman
Screenwriter
Craig Wright, Jon Feldman
Main Cast
Additional Cast
Sheryl Lee
Joseph Siravo
John Bennett Perry
Ron Ostrow
Angela Martinez
Roxana Brusso
John Kapelos
Synopsis
---
The Darlings are throwing Nick George a fantastic yacht party -- anyone who is anyone in New York is there... And soon so are the NYPD.
Two days earlier, Lisa George is giving Nick a hard time about the Darlings' birthday party for him. She wants to have a family affair, he feels obligated to go to the yacht. They compromise and plan a fantastic sexy dinner alone later that night.
Nick then attempts to arbitrate a meeting between Patrick and Tripp, though everything fails miserably. And, it appears, that Ellen Darling has been hitting the bottle -- HARD -- after learning about Carmelita.
As Nick works with his set of Darlings, Lisa is being stalked by Jeremy (who is now rocking an Italian artist look -- complete with matching Vespa -- probably to lure Lisa away from her husband). She rebuffs his offers and goes on her way.
Karen Darling continues to woo Simon Elder, though she goes through his stuff when he's not looking. Apparently she's still snooping for Tripp... Until Simon tells her that he loves her.
Karen, incapable of returning those three words, shows up at Nick's office naked with a bottle of wine. She tells Nick that he's her "exit ramp" when relationships get rough and he tells her to get dressed.
Brian Jr. and his mother, Andrea, are back from Brazil and staying with the Darlings. Andrea's not pleased that she is having problems with her visa back to South America, but Brian Darling seems elated... At least until Tripp asks him to counsel Ellen about her alcohol problem.
Ellen, obviously already drunk, keeps watch over the family's open bar. When Patrick comes home, she accuses him of spending his time looking for Carmelita (which he is). Ellen also accuses him of being a pervert and retreats to the bottle.
Ellen then finds Patrick's file on his missing mistress and attacks him in the shower. Unfortunately for Mrs. Darling, the combination of heels, wet tile and half a bottle of whiskey do not mix well and she falls on the bathroom floor, cracking open her head. Blood spills across the floor and she dies on site. A panicked Patrick calls Tripp for help, who then calls Nick George.
Nick arrives at Patrick's residence after telling Lisa that he will be late to dinner. Upon realizing the calamity of the situation, Nick tells the Darlings to call the police and is horrified to hear their reaction on how bad press will affect Patrick's campaign and their family in general. Nick restates his position and offers help as the family lawyer once the matter becomes legal, not moral.
Simon Elder then tells Karen that it is okay she cannot say, "I love you too." He also calls her out on the snooping and shows her a new fuel his company is developing, encouraging Karen to give it to her father.
Meanwhile, Lisa is joined by Jeremy Darling at the romantic dinner. He brings her another bottle of expensive wine, and they proceed to get very, very drunk. By the time Nick finally arrives at the restaurant, he sees the youngest Darling putting the moves on his wife.
The next day, as the family driver brings Ellen's body to their country home, Nick meets with Tripp and later punches Jeremy in the face.
Brian then approaches Tripp after learning Brian Jr. and Andrea had returned to Brazil. Tripp claims he could have stopped the two if Brian had asked him for help in the first place. He explains (more or less) what happened with Ellen and then tells Brian to say he's been fishing with Patrick for the past two days in the Hamptons... and get a little sun.
Valhalla, the family's country home is on the news after catching fire. Apparently the entire place is destroyed. For some reason, the family's driver seems less than shocked.
Karen meets Simon before Nick's party and gives him back the fuel... apparently she's falling for his con.
Jeremy, avoiding Nick, hangs out at a bar only to meet a mysterious and sexy stranger... again. She messes with his head and they proceed to have a lovely time inside his limousine. (BTW, they're not playing board games and drinking tea.)
At Nick's birthday party, the press is hounding the man of the hour as to how he got Tripp and Patrick to reconcile. Nick is mum and presses on through the reporters and paparazzi. He sees Lisa and they make peace. Tripp introduces Brian to an associate who remarks on Brian's sunburn from fishing as Letitia grills Patrick about his drunken wife. Then the NYPD show up. Patrick, Brian and Tripp all ask Nick what he's done (assuming this has to do with Ellen's death)... until Letitia is arrested for the murder of Dutch George!