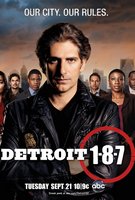 TV Info
---
Episode Premiere
March 20, 2011

Distributor
ABC

Genre
Drama

Show Period
2010 - 2011

Production Company
ABC Studios


Cast and Crew
---
Director
Kevin Hooks
Screenwriter
Jason Richman
Main Cast
Additional Cast
Vadim Imperioli
Megan Dodds
Tommy Flanagan as Albert Stram
Carl Lumbly
Tessa Thompson
Synopsis
---
Longford turns in his retirement packet. He just needs to do one thing before it's a done deal, and that's rip up any and all paperwork that says he can't be a cop. This last minute change of heart may not be enough to save his job. The department is moving in a younger direction. Longford often says, "I've been a cop in Detroit so long..when I started, half the suspects was white." Unfortunately, that's not a selling point now.
Fitch and Bobby meet up with Washington and his young son at a museum. They aren't the only ones enjoying the exhibits. Big Al Stram is there to rope Fitch into being his inside man at the police department. His not-so-subtle threat on Bobby's life has Fitch a little on edge. The rest of the squad is also in turmoil as they investigate the brutal murders of an entire family.
Big Al Stram has been bringing drugs across the border from Canada. When Fitch learns that a member of the murdered family was a customs agent, he realizes his former NYC nemesis is behind the killings. Stram gives Fitch the gun that was used to kill the kids to frame someone else for the murders. This time Stram threatens the family of the man who recently asked him to be a godfather-his partner, Detective Damon Washington.
Fitch does his best to coerce a confession out of a suspect. The threat of being taken away from his family almost gets the guy to cop to a crime he didn't commit. Almost. The interrogation is interrupted when Jess Harkins tells the squad that she knows Al Stram is behind the murders. He met with an associate that the feds couldn't identify. That mystery man was Detective Louis Fitch.
Washington realizes Stram is threatening his partner. What he doesn't know is that his own family is also in danger. Fitch needs to handle this situation off the books. Lieutenant Mason isn't about to let him do it alone. She tells Longford and Mahajan that they are under no obligation to do what she's about to ask. Both men say they are in before she can even offer any details. Fitch says they could get killed. Longford responds, "Beats going to Tuscany."
Washington is baffled when Fitch asks him to be Bobby's godfather. After all, his kid is the one getting baptized. What Fitch is really requesting is for him to look out for his son. As much as Washington wants to be in the trenches with his partner, Fitch convinces his him that what he's asking now is far more important.
Fitch tips off Stram about the feds. He then makes his way to the mobster's second hideout where Longford and Mahajan plant the murder weapon on one of his henchmen. As for Fitch, he shuffles Stram out the door and drives him to a cabin across the border. He advises the mob man to lay low until things die down in Detroit.
Stram makes the long snowy walk to the cabin until his phone rings. It's Fitch. He says, "Go back to New York. Stay out of my city." Stram turns around to see Fitch standing before him with a gun by his side. The mob man can't accept Fitch's offer. Stram and Fitch simultaneously draw guns. BANG!
Special Agent Jess Harkins shows up at Washington's baby's baptism with news. Two of Al Stram's men were found handcuffed in the back of a parked police car. The murder weapon used to kill that family was on the front seat. The mafia guys claim they were abducted by three men. One of their kidnappers was Louis Fitch.
Lieutenant Mason says Fitch wasn't involved in the abduction because he was at the church for the baptism. Washington adds that they couldn't have done it without him. After all, he's the baby's godfather. The mob men will testify otherwise. Lieutenant Mason assures Harkins that people are more likely to take the word of an entire squad of Detroit's finest.
Mahajan's overseas fiance found out he's been unfaithful thanks to the wonderful world of social networking. The arranged marriage is off, as is Longford's retirement. Tuscany will just have to wait. As for Fitch, he finally gets up the nerve to ask out Sanchez. He even manages to do it face-to-face, as opposed to over the phone. They'll go ice skating with Bobby. But first Fitch and his boy will grab a Coney and a soda. Bobby tells his dad that they don't call it a soda here. They say "pop" in Detroit. Everybody knows that.