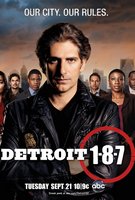 TV Info
---
Episode Premiere
March 15, 2011

Distributor
ABC

Genre
Drama

Show Period
2010 - 2011

Production Company
ABC Studios


Cast and Crew
---
Director
David Zabel
Screenwriter
David Zabel
Main Cast
Additional Cast
Vadim Imperioli
Alicia Coppola
Megan Dodds
Tommy Flanagan as Albert Stram
Erin Way
Shahine Ezell
Synopsis
---
"Detective John Stone (1981-2011) - Gone too soon."
These words are printed below a picture of one of Detroit's finest, who is now one of its fallen. The entire squad is still reeling after the tragic death of one of their own. Stone's partner/lover, Detective Ariana Sanchez has been taking some time off. Fitch stops by her place to see how she's doing. He's not always the most eloquent guy in town, but his visit seems to help Sanchez cope.
Fitch's son, Bobby, is in town. His ex-wife, Linda, brings him by the station where she meets her ex-hubby's colleagues. The father and son reunion is awkward at first, but it'll get better. That's all Linda needs to know before heading out. Fitch wants her to stick around to talk about past issues. Linda can't. She's off to be with the new man in her life. The only thing she wants from Fitch is for him to be a dad to their son.
Bobby appears to be a chip off the old block. He even calls Washington on the phone to chat about his baby's impending baptism while seated just a few feet away. Bobby also likes spending time with Sanchez, who advises the kid to indulge in a Coney dog while he's in town.
Longford and Mahajan investigate the death of a teenage graffiti artist named Jordan. The kid was smashed in the head with a rock while painting an abandoned building. Jordan was part of the Detroit Children's Art Program. The organization is run by a man named Reuben Davis, who says the boy came to him for stability after living life in a broken home.
A potential suspect in Jordan's murder is another young tagger who goes by the name Nuke5. Jordan and the mysterious Nuke5 were in the art program together. Mahajan and Longford track down Nuke5 doing some exterior designs in the city. They lose him during a chase thanks to Longford's back spasms. A rigorous massage from Wendy back at the station seems to help get the kinks out.
The detectives track down Henry Taylor, aka Nuke5. The kid isn't talking. Fitch notices Bobby drawing sketches of his old bike. It's part of coping strategy. He uses this knowledge in the interrogation of Henry Taylor. Fitch realizes someone hurt him when he was a kid. This same person also hurt Jordan, who wanted to blow the whistle on the guy. It was a man who claimed to be a friend-Reuben Davis.
Fitch realizes that Bobby snuck in to watch the entire interrogation. He wanted to see his dad in action. Bobby says he's good at his job. It would be hard to find someone to disagree with that assessment. As for Reuben Davis, he won't be hurting anyone any longer after Longford and Mahajan arrest him.
This bust may be one of their last together, as Longford gets his retirement papers in order. Mahajan says, "He who goes to Rome by foot returns a fool." It's very poetic even though Longford has no idea what it means. His partner explains that he shouldn't go to Tuscany out of some obligation to his deceased wife. That's not what she would want. The only thing she'd ever want is for him to be happy.
Jess Harkins says New York mob man Al Stram is headed for Detroit. Fitch plays dumb when she asks if he knows anything about this particular bad guy. The truth is that Fitch knows Big Al all too well. He's also getting to know his son again as they enjoy a Coney dog at a local diner. Bobby must know a little something about his dad, too. After all, he secretly works it so Sanchez would meet up with them for a late bite.
Outside the diner where the three of them dine, a man stares in at their table through the window. He looks familiar. In fact, his picture was posted in the station as part of Special Agent Harkins' investigation. His name is Al Stram. He's no longer headed for Detroit. No, Big Al is already there.