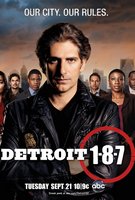 TV Info
---
Episode Premiere
February 15, 2011

Distributor
ABC

Genre
Drama

Show Period
2010 - 2011

Production Company
ABC Studios


Cast and Crew
---
Director
Dean White
Screenwriter
Nikki Toscano
Main Cast
Additional Cast
Megan Dodds
Michael Kenneth Williams
Raphael Sbarge
Kristina Apgar
Kerry O'Malley
Erin Way
Synopsis
---
Case: Legacy

An ex-con named Clarence Warrenton walks into the station telling Fitch and Washington that he killed two men in self-defense. The guy collapses from his own gunshot wounds but tells the detectives where to find the bodies before being carted off to the hospital. Clarence is a former gang leader who served 15 years for murder but turned things around while in prison. The two men he killed are members of a rival gang.
Stone and Sanchez are late arrivals at the crime scene. They stopped at the hospital to see Riley. She's one of Stone's informants from his undercover days. Riley says she was beaten during a mugging. Sanchez realizes Stone had more than a professional relationship with this woman. Riley still has feelings for Stone and he may still have feelings for her, too. At least, that's what Sanchez believes when she sees that Riley is staying in his apartment.
As far as the case, Clarence's self-defense claim doesn't ring true when Fitch realizes a victim was shot in the back at close range. Special Agent Harkins offers a computer-generated rendering of a possible shooting scenario. It's suggests there was a fourth shooter in the alley. Fitch believes Clarence is covering for someone.
A few weeks ago, Clarence was photographed with Nate Collins, the man who took over the gang when he went to prison. Collins suggests Clarence may be taking the heat for his teenage son, Justin. Sanchez isn't interested in hanging out with Stone, so she accompanies Fitch to apprehend Justin. The kid bolts when they arrive, but Fitch is impressed by the sweet open-field tackle Sanchez lays on Justin to take him down.
As part of his initiation into the gang, Justin was asked to shoot his father. But come crunch time, the kid couldn't do it. The only way to save his dad was to kill the other two bangers. Clarence told Justin to bolt so he could take the fall. It was the case of a father trying to make things right with his son. Fitch knows something about that. It's been a long day, but it's not so late that Fitch can't still give a goodnight call to his boy.
With the case closed, Stone heads home to find Riley crying on his kitchen floor. She lied before. She wasn't mugged. The people who beat her did so because of her relationship with the undercover cop who betrayed their friends on the street. Riley tells Stone that those same angry people are coming after him next.
Case: Drag City

Longford, Mahajan and Harkins investigate the murder of a Donald Tupper, who goes by the name Detroit (pronounced dee-twa, as if it were French). Detroit was one of the most prominent drag queens in town. The initial suspect is her number one fan, Marcus Wiler. The guy was borderline obsessed with Detroit, but Wiler claims he was just a fan and that the victim's intimidating boyfriend, Darren Riggs, may be the killer.
Riggs believes a jealous drag queen coworker may be responsible for the murder. Dr. Abbey Ward's report that the victim's chest was stomped by someone wearing a stiletto heel may lend credence to this theory. A former headliner named Cherry Pop had trouble dealing with the fact that her star was fading. Perhaps Cherry sought revenge on the popular new drag queen on the block.
Longford bonds with Cherry Pop over the fact they are both aging former stars in the respective professions they love. Cherry assures him that he didn't kill Detroit, but says the victim had a heated argument with another person a week before the murder.
Video footage suggests the person who argued with Detroit was Marcus Wiler in drag. But the incriminating shoes found at Wiler's apartment actually belong to his wife. Audrey Wiler knew there was something missing in her marriage. She followed her husband to the drag club he frequented. She wanted to scare Detroit out of their lives, but things got out of control. She admits to beating Detriot to death with a tire iron. Case closed.