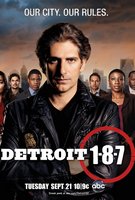 TV Info
---
Episode Premiere
February 08, 2011

Distributor
ABC

Genre
Drama

Show Period
2010 - 2011

Production Company
ABC Studios


Cast and Crew
---
Director
Andrew Bernstein
Screenwriter
Rob Hanning
Main Cast
Additional Cast
Tommy Hearns
Megan Dodds
John Beasley
Deanna Dugan
Synopsis
---
There's going to be a power struggle in Detroit now that Henry Malloy is dead. That's why Special Agent Jess Harkins is setting up shop in the squad room as part of an FBI joint task force with the DPD. Things are pretty icy until Fitch steps up to welcome her aboard. But he's not thrilled to have Harkins working cases with him.
Case: Beaten

Vanessa King was beaten to death in the diner where she worked. Her fiancé, boxer Tommy "The Motor City Mauler" Westin, has an upcoming fight with Dap "The Detroit Hammer" Fields. Fitch, Washington, Stone and Sanchez crash the weigh-in. Harkins arrives late. She's been having trouble navigating her new city's streets.
Detroit native/boxing legend Tommy "The Hit Man" Hearns is in the house as Dap Fields taunts Westin. BAM! The Motor City Mauler lays a sweet right hook on his opponent. Chaos ensues and Stone gets decked by Westin's cut man, Antonio Vega. Tommy's corner man, Lavelle, says Vega's the best in the boxing biz. Hey, at least he can treat Stone's wounded face. His bruised ego, however, may be another story as video of this cop KO makes its way to YouTube.
The detectives learn that Dap once dated Vanessa. Tommy claims that the real issue in his relationship with the victim was the fact that she wanted him to stop boxing. He got knocked around pretty good his last bout which left some lingering brain injuries. Vanessa was trying to stop the fight from taking place. Fitch believes this may have ticked off someone who needed her fiancé to step into that ring.
Tommy's manager offered cash incentives to his camp to run interference with Vanessa. Abbey Ward says the killer punch that did in Vanessa was thrown by a lefty. The cut man who clocked Stone is a southpaw. Sanchez heads over to gym for a little sparring session with Tommy's corner man, Lavelle, to get info on Antonio Vega's whereabouts.
When Sanchez realizes Lavelle is also a lefty, she socks him in the schnoz and snags the towel Lavelle uses to wipe his bloody nose. The sample matches blood found at the crime scene. The detectives arrest Lavelle, leaving Tommy confused and distraught. He'll keep fighting the good fight though. So will Jess Harkins, as she tries to get her new coworkers to accept her as one of their own.
Case: Cover Letter

Longford and Mahajan meet with Helen Lakeland, a woman whose son, James, was killed five years ago. The guy was stabbed and tossed off a bridge. His murder was never solved. Helen recently dug up some love letters to a woman named Adrienne Fontaine, who says she and James had feelings for each other. They never acted on them because they both had families. The love letters helped them deal.
Adrienne says her hubby, Peter, never knew about James. She'd like to keep it that way. But Longford and Mahajan realize that Adrienne was in the crime scene area the night of Lakeland's murder. She's not strong enough to toss him off a bridge, so perhaps she had some help from hubby.
Lieutenant Mason plays on the lady's vulnerability as a mother to get her to crack. Adrienne says James had pancreatic cancer and not enough health coverage to fight it. The only way his mother would be able to collect the life insurance money to raise his daughter, April, is if it looked like he was murdered. Adrienne tried to talk him out of his suicide, but it was too late.
The life insurance money will have to be returned. Mahajan can't do anything about that, but he can still help the family. He tracks down April's mother, who had been hooked on drugs. She's been clean for years but has long been afraid her daughter would reject her. A nudge from Longford helps her see that's not the case at all.
As far as Mahajan, this case showed him the power of the pen. He decides to stopped texting the lovely lady who may or may not become his wife in an arranged marriage. Instead, he takes pen and paper in hand to send her a handwritten love letter. Who says this guy isn't a romantic?