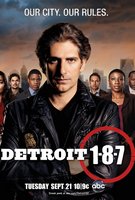 TV Info
---
Episode Premiere
January 11, 2011

Distributor
ABC

Genre
Drama

Show Period
2010 - 2011

Production Company
ABC Studios


Cast and Crew
---
Director
Seith Mann
Screenwriter
Jason Richman, David Zabel
Main Cast
Additional Cast
Todd Stashwick
Rochelle Aytes
Dov Tiefenbach
Helena Mattsson
Erin Way
Anslem Richardson
Kara Zediker
Synopsis
---
A few of the detectives are dealing with personal issues. Longford celebrates 30 years on the job, while Mahajan tries to decide if he should send his picture to a beautiful woman his folks picked out for an arranged marriage. CLICK! A shot of one of Detroit's handsomest is on its way to India. In other news, Stone makes out with Sanchez to get her mind off her drugged-out older brother. Perky intern Wendy catches them kissing, but promises to keep mum. Stone's cool with that, but Sanchez remains wary.
On the family front, Fitch is trying to get his stubborn ex to let his son come visit him. He unjustifiably takes out his frustration on Assistant Prosecutor Alice Williams. That's probably why Fitch is hit hard when Williams is found shot to death in a courthouse parking lot.
Lieutenant Maureen Mason is stunned by this tragedy. She was very close with Alice. Fitch knows this. He promises that justice will be served. Williams had a little fling with a coworker named Eli Jones, who didn't take their breakup well. Jones steers the detectives to journalist/weasel JJ Zagorski, who says Alice was killed by Fitch's old nemesis, real estate tycoon Henry Malloy.
Alice Williams was going after Malloy. She uncovered links to organized crime bosses and politicians on the take. She kept her investigation quiet because she suspected there was a mole in the department. Zagorski was going to interview a whistleblower, but Alice had yet to give him a name.
The detectives pick up Malloy's longtime mistress, Anna Gabov. Fitch body slams a cop he doesn't recognize when he gets too close to Anna. If she has evidence on Malloy, her life is in danger. They move her to a safe house. Anna gave incriminating recordings of Malloy to Alice. Lieutenant Mason believes it's time one Detroit's most powerful citizens became a prime suspect in the murder of her friend.
Henry Malloy shows up in a tux. He's getting a key to the city later. Right now, he wants to talk to Fitch. Malloy threatens to publish a story in his paper. It's about a dirty New York cop who fled the city, abandoned his wife and tried to disappear in Detroit. Fitch stridently lets Malloy know that blackmail won't fly. He's taking him down. Malloy doesn't seem worried. But Fitch does once he realizes Malloy knows they have Anna.
Longford and Mahajan hear a noise outside the safe house. BANG! BANG! BANG! Gunshots blast through the front door. The detectives return fire, killing the gunman that murdered Alice. A second hit man drops his gun when Longford shoots at him on the fire escape. Anna flees to the roof where the second assassin has her in a headlock. Mahajan doesn't have a clear shot. There's absolutely nothing he can do when the guy pulls himself and Anna over the rooftop.
Back at the station, a dirty copy steals the incriminating recordings out of Lieutenant Mason's desk. Fitch goes ballistic. No witness. No evidence. Even though they nailed the triggerman, Malloy is going to get away clean. Washington tries to tell his partner that they'll get him eventually. That's not good enough for Fitch.
Remember that "key to the city" thing honoring Malloy? Well, the attendees are treated to an impromptu speech from someone who wasn't on the guest list. Fitch and Malloy get into a heated verbal sparring match that nearly gets physical. Washington pulls his partner away and Mason chews out Fitch back at the precinct. She tries to tell him that they may have to wait for justice. Again, that's simply not good enough.
The next day, Mason relays the news of a fresh homicide to most of her detectives. We say "most" of them because Fitch is late. He arrives moments after Mason announces that the person has been shot to death is Henry Malloy. Could the prime suspect possibly be one of Detroit's finest?