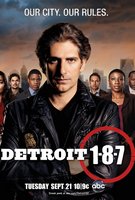 TV Info
---
Episode Premiere
January 04, 2011

Distributor
ABC

Genre
Drama

Show Period
2010 - 2011

Production Company
ABC Studios


Cast and Crew
---
Director
Paul Edwards
Screenwriter
Byron Balasco
Main Cast
Additional Cast
Lauren Bowles
Marcus Giamatti
Michelle Clunie
Kevin Bigley
Jonno Roberts
Synopsis
---
Case: Malibu

Fitch and Washington investigate the murder of Kirsten Keller, a famous actress who was in town filming her latest movie. A production assistant found the Hollywood star strangled to death in her trailer. A tan line on Kirsten's wrist suggests a watch or bracelet is missing. Lieutenant Mason notes that the victim is probably the only person in Detroit sporting a tan line in the winter. Yeah, it gets a bit nippy in the Motor City.
The film's director, Vaughn Prince, is interested in making a movie based on a few of Detroit's finest. He finds Fitch to be "fascinatingly odd." The guy has an eye for talent. As for the movie's producer, she points the detectives to Sara Moore, the starlet's "sober coach." The film's production assistant, Paul Flynn, helps Fitch and Washington track down Sara, who fell off the wagon herself after Kirsten flipped out on her. Why'd the actress go ballistic? Well, Sara confronted her about an affair she was having with the married Vaughn Prince.
Kirsten called Vaughn's wife to spill the news of their relationship. Sara, who feels guilty for letting Kirsten down, tosses away her sobriety bracelet. The victim had a similar bracelet which is valued at about $10,000. Kirsten's was missing. It was given to a drug dealer to settle a debt for the cocaine the film's production assistant, Paul Flynn, was scoring for the star. When Kirsten said she'd wire Paul the money after she got back to Malibu, Paul believed the bracelet would be a more viable solution. Things just got out of hand.
With the case closed, Fitch is free to concentrate on other issues like his car problems. Sanchez knows a little bit about auto maintenance, so she agrees to check under his hood. She's amused that Fitch doesn't even know the make or model of his car. It's one of those things that make him "fascinatingly odd."
This little car date means Fitch and Sanchez will finally get to spend a little off-duty social time together until…RING! Fitch gets a phone call he has to take. His young son, Bobby, is on the line long distance. The car checkup with Sanchez will have to wait. Fitch's son wants to tell his dad that he's coming to Detroit.
Case: Ice Man

Longford, Mahajan, Sanchez and Stone investigate the death a young homeless man who was found frozen upside down in a pool of water after plummeting down a shaft in an abandoned building. The urban explorers who found the body believe the victim is a transient they dubbed Spotlight, as he always wore a headlamp.
Stone and Sanchez find a makeshift living area where the victim repeatedly wrote the word "rabbit" on the walls and in his gibberish-filled journals. Another homeless man pawned the victim's camera. This thieving vagrant bites Sanchez on the arm. Dr. Abbey Ward, a total hypochondriac, freaks out Sanchez a bit before finally saying she'll be fine with a tetanus shot. Abbey also tells Sanchez and Stone that someone hit their victim hard before he fell to his icy death.
Stone identifies the victim as Ryan Cook, a kid who came from an affluent family. His sister, Rachel, had filed a missing persons report weeks earlier but her brother was never located. Rachel's husband, Cameron, says Ryan suffered from bipolar disorder. Another urban explorer, a slimy Frenchman named Michel, was exploiting Ryan to mooch money. Michel says Ryan flipped out when he took his picture and stole his camera. His sister, Rachel, gave it back to him when he helped find her brother.
Stone tells Rachel that he knows she lied. During the autopsy, Dr. Ward found a photo memory card that Ryan had swallowed. It held a picture of the brother and sister together. The "rabbit" Ryan wrote about was actually Rachel, who had been trying for so long to get him the help he needed. That was never going to happen. At least, that's what her husband believed. Cameron thought the only way he and his wife could move on is if Ryan was out of their lives forever. And that's why he gave him the ultimate shaft.