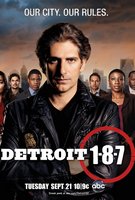 TV Info
---
Episode Premiere
November 30, 2010

Distributor
ABC

Genre
Drama

Show Period
2010 - 2011

Production Company
ABC Studios


Cast and Crew
---
Director
Kevin Hooks
Screenwriter
Denitria Harris-Lawrence
Main Cast
Additional Cast
Dee Wallace
William Allen Young
Tessa Thompson
Allen Maldonado
Tequan Richmond
Brandon Gill
Jane Alderman
Synopsis
---
Case: Home Invasion

Longford, Mahajan, Stone and Sanchez investigate the murder of retired auto industry executive Leland Eckhart, who was shot to death in his beautiful home. Eckhart's wife, Marni, was out of town when the killing took place. Longford believes the victim may have had a guest over. A neighbor saw a suspicious man in a hoodie lurking about who looked like President Obama. But last time we checked, Detroit was a long way from D.C.
The victim got into a fight at his club with Dr. Jonathan Dozier a few days back. Dozier has a hoodie and does look a bit like the current Commander-in-Chief. We didn't see any Secret Service though. Dozier alibis out for the murder leaving the detectives back at square one.
Case: Drive-by

Fitch and Washington investigate the death of 11-year-old Stephon Macy, who was killed in a drive-by shooting while playing at his best friend's house. The people in the neighborhood are afraid to speak up for fear of retribution. Lieutenant Mason was on the scene the moment she found out the victim was a child. She orders Fitch and Washington to find whoever did this.
Washington is fuming because something like this shouldn't have happened. Fitch tries to keep his partner focused. Broken glass out on the street suggests a car window was blown out during the shooting. A neighborhood kid got into an altercation with a driver who followed him back home and started firing.
Fitch finds the shooter's hangout through a street source. Washington perks up when the source asks his partner about his son, Bobby. It's been awhile since Fitch has seen the boy. He's in New York. When Washington asks about what happened in the Big Apple, Fitch quickly changes the subject. They pick up Paul Osborne, who has a gun matching the one used to kill the kid. Ballistics confirms that Leland Eckhart was shot with the same gun.
Osborne admits to accidentally killing the boy but swears he didn't do the old man. He got the gun from a kid named Appleman, who works at a pawn shop. The weapon was found buried in a vacant lot which happens to be across the way from the first victim's house. The detectives suspect that Marni Eckhart hid it there after killing her husband. But she asks for a lawyer while being interrogated.
Washington is livid. He thinks this rich woman's high-powered legal team will get her off for killing her husband. He decides to clue in Marni as to how her actions also led to the death of an 11-year-old boy. That does the trick. Marni fesses up to killing her workaholic hubby who had made her life hell ever since he retired. That's all Washington wanted to hear. He exits the interrogation room walking past his fellow detectives and his proud partner.
Later, Washington's wife, Lauren, comes by the station. They are going on their first date since the baby was born. Washington gets very upset when he discovers that Lauren's mom wasn't feeling well so she had to call a sitter. Lauren knows that something happened today. She comforts her husband as Fitch watches from across the room. This inspires Fitch to give his son a call. Unfortunately, his ex-wife says Bobby is asleep. It's obvious she doesn't want Fitch talking to him. It's even more obvious that this eating him up inside.