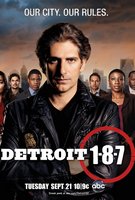 TV Info
---
Episode Premiere
November 16, 2010

Distributor
ABC

Genre
Drama

Show Period
2010 - 2011

Production Company
ABC Studios


Cast and Crew
---
Director
Jean de Segonzac
Screenwriter
Mick Betancourt
Main Cast
Additional Cast
Jerry Adler
Nolan Gerard Funk
Andrew Caldwell
Synopsis
---
Case: Deja Vu

Washington wants Fitch to confide in him because that's what partners do. Fitch says, "The Lone Ranger and Tonto never talked about stuff. They were great partners." Of course, that masked man didn't live in Detroit where the bedroom of a teenage boy named Seth Cantor is now covered in blood. It has all the looks of a murder scene only there's no body. Judging by the posters in the room, Sanchez realizes Seth had a little mafia envy.
Traces of drugs are found in the victim's blood. It looks like someone chopped him up before removing the body. A handyman says he saw someone drive away from the crime scene in a black sedan. Seth's girlfriend steers the detectives toward his three gangster movie-loving buddies: Trevor, Cliff and Adam.
Video surveillance shows Seth and his pal Trevor heading into Canada in a black sedan belonging to one of their clients in a drug dealing operation. Trevor admits they went north of the border to buy prescription pills for resale in the States. Their Canadian dealer got into a fight with Seth because the victim was eating more pills than he was selling.
Fitch's interrogation is shut down by Trevor's grandfather, Max Elkin, a former member of the old Purple Gang, a group of brutal mobsters who haven't been active since the `70's. Washington says, "Al Capone stayed out of Detroit because of these guys." Trevor and his pals may be the all-new 21st Century Purple Gang.
Fitch and Washington head up Canada were they get some help from Canadian detective Claude Laurent. Washington is caught off guard when Laurent asks about Fitch's lady in New York. As you may expect, Fitch blows off his partner's request to elaborate. They have a murder to solve and the info they get from Seth's drug dealing partner leads them back to the U.S. and the victim's three buddies.
Cliff says Adam killed Seth. Adam says Cliff did it. This leads the detectives to believe Trevor may be the real killer. When they bring Trevor in for questioning, he overdoses smack dab in the middle of the interrogation room. He took a bunch pills just before the police grabbed him up.
Stone takes another shot at questioning Adam, who finally cracks. He reveals who really killed Seth, and it isn't Trevor. It's his grandfather, Max Elkin. Fitch assures Elkin that he's going down for murder and the Purple Gang is dead and gone.
As the shift ends, Fitch has a little fun with his partner when he mentions how he acquired that paperweight on his desk. He says his son gave it to him. A stunned Washington asks, "You got a son?" There's no response to his query for the Lone Ranger has already gone off into the Detroit sunset.
Case: All In

Otto Walsh was shot to death outside a cheap hotel. The victim was having money troubles which added to the stress of having a sick daughter back home in Kansas City. Poker chips and an ad clipping lead Mahajan to believe Otto was in town for a big card tournament. The victim was at the tourney but bailed to take part in a local home game. Breanna Rayne was hired to give massages to the players. She says she doesn't know much about poker but Otto was winning big time. Pro player Slim Hopkins thinks the out-of-towner was cheating.
Neither Longford nor Mahajan can blame the desperate dad from doing whatever it took to get money for his sick daughter. They believe he had a partner helping him cheat; someone who could see the cards of the other players while perhaps giving massages. Longford and Mahajan bluff their way into getting info out of Breanna the masseuse, who says she was part of a bigger scam involving Slim Hopkins. He's the one who killed Otto. When Longford and Mahajan show up to arrest Slim in the middle of a poker game, he knows he has no other choice but to fold.