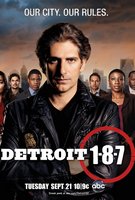 TV Info
---
Episode Premiere
October 26, 2010

Distributor
ABC

Genre
Drama

Show Period
2010 - 2011

Production Company
ABC Studios


Cast and Crew
---
Director
Paul McCrane
Screenwriter
Jason Richman and Nikki Toscano
Main Cast
Additional Cast
Rochelle Aytes
Adriane Lenox
Johanna Braddy
Synopsis
---
Case: Lost Child
Fitch, Washington, Sanchez and Stone investigate the murder of Maria Young, a woman who was shot multiple times in her SUV. A two-year-old little girl is found hiding in the backseat. Back at the station, Sanchez is stunned to see Fitch playing games with the little girl. Homicide cops make the best Peek-a-boo partners.
A sweep of Maria's home reveals that she used to work for child services. A collection of disposable cell phones and a stash of cash suggest Maria had a secret life. Sanchez says, "Ex-social worker found dead with a kid in her car? She wasn't hiding this little girl. She was selling her."
The victim's GPS leads them to the home of the Campbells, a couple with an adopted child. They are obviously hiding something. But Alice Williams needs more evidence to do anything. As you can imagine, this ticks off Fitch. Meanwhile, Stone and Sanchez discover that the little girl is Finley Mitchell, who has been missing from her foster home. Her biological father is Donald Mitchell and he's their prime suspect in Maria's homicide.
When Fitch and Washington see the horrific conditions at Finley's foster home, they realize that Maria didn't abduct the little girl to exploit her. She was trying to save her. Sanchez reveals some of her own experiences with Child Services to Donald Mitchell's sister in order to gain her trust. It works.
Mitchell's sister says Maria was part of an underground railroad for kids. They were trying to get Finley out of that foster home and away from her violent father. Fitch realizes that Donald Mitchell is going after Eva Gibbons, Finley's social case worker. So they make sure they get to her first and take down the killer.
Everyone is upset because the Campbells are now under investigation and Finley Mitchell is going back into the system. Sanchez is looking to drown her sorrows. She asks Fitch if he'd like to grab a drink. He'd love to, but says he can't. So Sanchez heads out with Stone instead.
What could possibly keep Fitch from the woman he's so obviously been worshiping from afar? Well, he heads out to the middle of nowhere with a couple of passengers in the backseat, Eva Gibbons and Finley Mitchell. They meet up with the Campbells, who are now on the run from authorities. But Detective Louis Fitch isn't there to arrest them. He's there to hand over a two-year-old little girl to someone he knows will keep her safe.
Case: Murder 101
Longford and Mahajan investigate the murder of Jared Nicholson, a janitor who was killed on the campus of Lindbergh University. A couple of med students, Elizabeth and Karla, found the body. The stabbing victim had trouble with drugs in the past. Dr. Abbey Ward's toxicology test reveals large amounts of GHB in his blood. A footprint found at the scene leads the detectives to a dealer named Dwayne Rollins. Longford and Mahajan have no trouble chasing down this 290-pound guy who gives new meaning to the phrase "big man on campus."
Rollins claims he sells NoDoz to dumb college kids under the pretext that it's GHB. He says a couple of female med students were walking around campus during one of his midnight NoDoz deals. The timeline suggests that the two med students who called 911 may have been in the area at the time of the murder. The detectives dig around to discover that Elizabeth is not well-liked and Karla is her loyal follower.
Dr. Ward discovers a needle prick on the janitor's upper back. He was injected with paralytic drugs and killed by someone who wanted to make it look like he was fighting for his life. Mahajan knows that Elizabeth had access the anesthesiology lab at the college. Longford asks, "Think they could've gotten access to a paralytic drug?" Looks like a couple of our favorite detectives are going back to school.
Elizabeth turns out to be quite the soulless suspect. They need to break Karla to make a case. So, they do. Mahajan uses the info they obtain to coax a confession out of Elizabeth. Turns out the reason she killed the janitor is because he called her a name that would describe a cold, heartless woman. The guy was right.