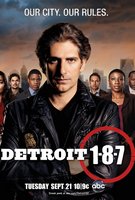 TV Info
---
Episode Premiere
September 28, 2010

Distributor
ABC

Genre
Drama

Show Period
2010 - 2011

Production Company
ABC Studios


Cast and Crew
---
Screenwriter
Jason Richman, David Zabel
Main Cast
Additional Cast
Rochelle Aytes
Tessa Thompson
Brandon Fobbs
Omar J. Dorsey
Synopsis
---
Detective Louis Fitch stops by the hospital to visit his partner who is recovering from a gunshot injury. Washington will soon be well enough to hold his brand new baby boy, Martin (though he jokes he named him Fitch). Assistant prosecutor, Alice Williams, wants Fitch to play the role of a hero in the squad room shooting to help quash this PR nightmare. Fitch isn't big on spin control. He'd much rather be out solving homicides.
Case: LOCAL HERO

Calvin Gibbs was an All-Conference tailback at Southeastern Michigan. This local hero's football career is now over, as he was shot dead while driving on a downtown street. Ariana Sanchez and her brand new partner, Detective John Stone, catch the case. Fitch pitches in on the investigation. He obviously doesn't think much of Stone's detective skills, or the fact that he's riding with Sanchez.
Stone promises the victim's distraught brother, Terrence, that they'll catch the person who did this. A kid called Speedy was riding with Calvin when he was shot. When Fitch tosses Speedy a can of soda, he catches it with his left hand. Speedy is a southpaw. The angle of the bullet wound suggests the victim was shot by a right-handed person outside the car. Speedy's not a viable suspect.
Calvin had a life insurance policy based on projected earnings if he went pro. Beneficiaries are his mom and big brother. But Terrence has an alibi. He believes a club owner named Goat (it stands for Greatest of All Time) is behind his brother's death. Goat dabbles in sports merchandise and wanted Calvin to market his goods. Sanchez and Stone question the shady entrepreneur. A few hours later, Goat is dead after being shot by Terrence Gibbs.
Stone and Sanchez track down Terrence, who is keeping vigil at the high school football field where his brother used to play. Stone asks Terrence if killing Goat was worth spending the rest of his life in jail. Terrence responds, "Calvin was my life." Sanchez sees how agonizing this case is for her partner. Unfortunately, things are about to get worse.
The victim called an old girlfriend, Shawna Johnson, in the hours before he was killed. Fitch deduces that Calvin was with Shawna. That didn't sit well with her new boyfriend, Derrek. Fitch finds Derrek at Shawna's place and takes him into custody. Now Stone must tell Terrence that he killed the wrong guy. Before going into break the news, Stone gets an unexpected show of support from Fitch. Sanchez says, "You know you're not such a bad guy when you don't wanna be." Fitch responds, "I never wanna be." Classic.
Fitch pays another hospital visit to his partner. Washington's wife thinks Fitch is a little odd and worries he won't have her husband's back. A news report shows Fitch at the press conference for the squad room shooting. He proclaims that if anyone acted like a hero that day it was Detective Damon Washington. Fitch says, "That kid…that's the kind of cop Detroit needs right now." Guess he does have his partner's back.
Case: OVERBOARD

Longford and Mahajan head down to the docks where a man was found floating in the river. The guy was part of a wedding party cruise. More specifically, he was the groom. The bride seemed to be blind to her dead new hubby's many faults. Not a lot of people at the reception liked the guy. But did anyone hate him enough to toss him overboard?
Wedding video footage suggests 15 guests were unaccounted for at the time of death. The top suspect seems to be a bridesmaid named Lynette, who was seen heading up to the ship's observation deck. Lynette was having an affair with the groom. They were going to have one last fling before he headed away into married life. But Lynette claims she left to get a glass of water. When she returned, the groom was gone.
Dr. Abbey Ward's autopsy shows the victim died of a massive coronary. The groom had a heart attack, hit his head on a banister and fell into the river. Just like that, the honeymoon was over. After the shift, Longford talks about how good he had things in his marriage. It's why he wants to keep the promise he made to his wife to move to Tuscany upon retirement. But right now, he's still got a few good days left on the streets of Detroit.