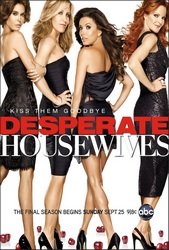 TV Info
---
Episode Premiere
May 13, 2012

Distributor
ABC

Genre
Drama, Comedy

Show Period
2004 - 2012

Production Company
Cherry Alley


Cast and Crew
---
Director
Larry Shaw
Screenwriter
Bob Daily
Main Cast
Additional Cast
Christine Estabrook
Kathryn Joosten
Darcy Rose Byrnes
Synopsis
---
Karen McCluskey's condition has gotten to the point where she needs to receive hospice care. Roy simply can't handle her substantial needs even though Karen wants to die in her own home. That's fine. There are four ladies on Wisteria Lane who can help. Bree, Lynette, Susan and Gaby aren't about to let Karen go anywhere. They'll be there for her right up until the end. Karen realizes these women are more than just her neighbors. They are her very dear friends.
Bree's murder trial seems to be growing more sensational by the day. Carlos wants to come clean, but Gaby convinces him to ride things out a little longer. Ben is called to testify, but he's held in contempt when he refuses to answer the prosecution's questions, even though there's a recording where he and Bree discuss putting a body in the ground. Renee tells an incarcerated Ben that she remembers some details about the night of the murder. She has no idea the prosecutor is listening to their entire conversation.
The prosecutor threatens to deport Ben back to Australia unless Renee spills what she knows. She has no choice but to say she saw a disheveled Bree carrying a shovel the night of the murder. Not good. Tripp lets Bree know that she's in serious trouble. Then he kisses her. Moments later, Bree spills all the details of what happened the night Alejandro died. She makes Tripp promise to not use this information against her friends. It's a promise he can't keep.
Bree is livid when Tripp calls Gaby to testify. The truth about Alejandro finally comes out. Bree demands a recess, but doesn't get one. She fakes a fainting attack so that court will be adjourned for the day. Gaby tells Carlos that she's going to say she's the one who killed Alejandro. Karen overhears the whole conversation. Later, Carlos tells his wife that he's the one who will come clean. Gaby can't let that happen. That's why she plants a knife in his jacket. There's no way he's getting into that courtroom after setting off the metal detector.
Karen gathers up enough strength to make her way down to the courthouse. She convinces Tripp to let her testify to discredit Renee. Instead, Karen makes an eloquent speech about how the people she's lived beside for so many years are her family. And families protect each other. That's why she's the one who took a candlestick and killed the lowlife who had hurt her friend. In light of this new evidence, the prosecution has no choice but to drop all charges against Bree. Woo hoo!
Penny lets her mom know that Jane has moved out. This is great news for Lynette, who is excited when Tom asks to stop by to discuss something important. She gets all gussied up for his big announcement, but is extremely disappointed when Tom tells her that he's filing the divorce papers so they can both move on. Lynette now believes that Jane was never the problem. She thinks Tom just doesn't want to be married to her.
While everyone is celebrating Bree's victory in court, Tom checks in on Karen. Roy lets him know that the trial appearance took a lot out of her. He also mentions how they recently had a talk about all the things they had put off saying for so long. His words hit home with Tom. That's why he lets Lynette know that she's always been the love of his life, but he knows that she's already in love with someone. He's right about that one. But what Tom didn't expect is to hear Lynette say that the person she's in love with is him. They share a long, loving passionate kiss smack-dab in the middle of Wisteria Lane. Finally!