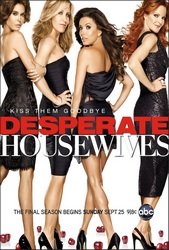 TV Info
---
Episode Premiere
May 15, 2011

Distributor
ABC

Genre
Drama, Comedy

Show Period
2004 - 2012

Production Company
Cherry Alley


Cast and Crew
---
Director
Larry Shaw
Screenwriter
Bob Daily
Main Cast
Synopsis
---
Susan is jazzed to be back on Wisteria Lane. The thing she missed most is her friends. So, Susan pops by to visit with Bree, Lynette and Gaby. All three of them pretty much slam the door in her face. It's not that they aren't glad to see her. It's just there's a lot happening on the Lane. For instance…
Lynette is devastated by the fact that Tom wants to move out for awhile. Gaby's stepfather is still hanging outside her house. And Bree may be taking things to the next level with the nearly-divorced Detective Chuck. See, Susan? You move away and you're bound to miss something! Susan's friends do end up planning a progressive dinner party to celebrate her return. Different foods will be served at different houses.
Bree drags Renee down to the boutique owned by Chuck's soon-to-be ex-wife, Doreen. The plan is to buy a bunch of stuff so she'll be in a good mood the next day when it comes time to sign-off in the divorce. It all backfires when Doreen figures out what's going on. Now she's asking for everything because she knows how much Chuck wants to end it.
Gaby's stepfather, Alejandro, follows her into the woods, just as she'd hoped he would. He quickly realizes this isn't the same defenseless girl he raped all those years ago. That could be because of the gun Gaby is pointing at his head. She tells him to go back to being dead and Alejandro drives away. When Carlos finds Gaby's gun, he assures his wife that he would have definitely pulled the trigger had he been there.
Lynette is stunned to see Tom standing in their kitchen after she'd thought he left her. Not much is said, as their progressive party guests are arriving. One of them is a completely hammered Renee, who recently learned her ex is getting married. Guess that's why she starts making out with the bartender in the middle of the living room. Sadly, they break up later a few houses down.
Lynette learns the reason Tom didn't go is because he didn't want to leave her stranded alone at the party. She also realizes she wasn't as devastated when he left and that she felt relief when she thought he was gone. Not good. They won't say anything to ruin Susan's big night. Who would have ever thought the day would come when Lynette and Tom Scavo would have to tell anyone that they were separating?
Bree's house is the next stop on the progressive party list. Too bad she lost track of time because she was busy sleeping with Chuck. Her dinner is burnt to a crisp. Bree and Chuck manage to clothe themselves (kinda) to tell their guests they'll just run out to grab some more chicken. A short time later, Susan makes a speech to let her friends know how grateful it is to be home. Nice.
Gaby's skips home, as her place is next up for the progressive party. Someone is waiting for her when she arrives. It's Alejandro and he says he has her gun. Gaby's stepfather pushes her down, but Carlos catches sight of what's happening from outside. He clubs Alejandro from behind with a heavy candlestick. The guy's dead and he never had Gaby's gun. Carlos had locked it in the safe.
Susan, Bree and Lynette arrive to see Alejandro's dead body on the floor. Gaby tells them she never reported the rape. This will look like Carlos killed an unarmed, innocent man. He doesn't care if he goes to jail for what he's done to the man who hurt his wife. Bree says, "That's not going to happen."
The progressive party guests file into the house. All the housewives mingle as you'd expect they would. It seems like any other party one might attend on Wisteria Lane. The only difference is the fact that Gaby's dead stepfather has been plopped into a chest in the middle of the living room. Now that's a party to remember.