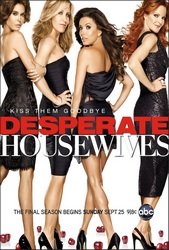 TV Info
---
Episode Premiere
November 14, 2010

Distributor
ABC

Genre
Drama, Comedy

Show Period
2004 - 2012

Production Company
Cherry Alley


Cast and Crew
---
Director
David Grossman
Screenwriter
Annie Weisman
Main Cast
Additional Cast
Emily Bergl
Daniella Baltodano
Brian Austin Green as Keith Watson
Orson Bean
Harriet Sansom Harris
Synopsis
---
The Solis family is hosting Thanksgiving with the Sanchez clan. Gaby promises to forgo the traditional turkey dinner for a slightly more Mexican feast. She ropes Carlos into cooking duties but forgets to pick up the pies for dessert. While on a pastry run, Gaby forces Hector to ride the shoulder to bypass a traffic jam. The police pull him over and Gaby discovers that the family is illegal.
A panicked Carmen hustles Grace into their truck. They need to run. Gaby has no idea when, or even if, they'll see Grace again. She convinces Carmen to stay with her until they figure out a plan. Bob tells them that it's simply too late for Hector and that Carmen will always be at risk. But Grace is safe since she was born in the U.S.A. This is has Gaby wondering about the possibilities of getting Grace for good.
Renee invites the Scavos over for Thanksgiving dinner. Lynette says Susan and MJ will have to be on the guest list, too. Renee reluctantly agrees. She's not crazy about Susan. Renee says, "She's always so perky and poor. It's an annoying combination." That's the holiday spirit!
Susan is appreciative of the invitation but she's a little uneasy about Lynette's decision to let baby Paige cry it out when going down for a nap. Speaking of feeling uneasy, Tom gets a little flustered when he drops a pie by Renee's place only to catch her wearing nothing but a towel. It triggers memories of their once intimate past. Renee loves that she can still make this guy blush.
Susan sneaks away from the Thanksgiving festivities to comfort a crying Paige. This leads to a confrontation with Lynette where Susan quits her nanny gig. Lynette thinks it's a bit extreme until she realizes the real reason behind her friend's actions. Susan hears MJ crying himself to sleep because he misses his dad. She often does the same. To hear Paige crying, well, it's too much to handle. Lynette understands and offers up her phone so Susan can make an expensive Thanksgiving call to Mike.
Back at Renee's place, Tom gets a little nervous when his beautiful hostess sits next to him on the sofa. Renee says there was a time when she could get any guy that she wanted. And she did! But she didn't choose wisely. That's one thing she admires about Lynette. If nothing else, she picked a great guy.
Felicia is horrified to learn that her daughter is sleeping with Paul Young. Nevertheless, she wants Beth to glean info from her homicidal hubby while basking in the afterglow. Unfortunately for Felicia, Paul's responses and Beth's remembrances of a sheltered childhood lead her to believe that maybe her mama is the one who's cuckoo for cocoa puffs. Felicia has a major meltdown when she realizes Beth has actually fallen for Paul.
Brian's mother, Mary, makes nice with Bree. Apparently, her drunken verbal assault was partially due to some marital problems. This inspires Bree to invite Mary and Richard over for Thanksgiving dinner. It's a sweet gesture but puts a crimp in Keith's plan. What plan, you ask? Well, let's just say it involves a small little jewelry box with a diamond ring inside.
Bree forgot that she had also invited Karen and Roy over after she learned they'd spent last Thanksgiving at a place called Pancake Castle. So it's dinner for six! As you may have guessed, Bree's meal is delicious. But the bickering between Mary and Richard is enough to make even the hungriest guest lose their appetite. Things go from bad to worse when Mary proclaims she wants a divorce. Who's up for dessert?!
All this talk of divorce has Keith feeling a little cynical about marriage. A little pep talk from Bree quickly turns him around. Richard tells Bree that his son is lucky to have her. He says, "I knew you were special from the moment I met you." These sound like nice compliments, right? Then why do we have this uneasy feeling about the slightly creepy way Richard delivers them?