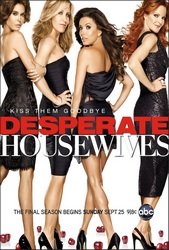 TV Info
---
Episode Premiere
May 09, 2010

Distributor
ABC

Genre
Drama, Comedy

Show Period
2004 - 2012

Production Company
Cherry Alley


Cast and Crew
---
Director
Larry Shaw
Screenwriter
Bob Daily
Main Cast
Additional Cast
Synopsis
---
Lynette has been trying to get Eddie's alcoholic mother, Barbara, to come to therapy with him, but when she hears from the neighbors that no one's seen Barbara in days, Eddie assures her that his mom is just off on one of her usual benders.
John Booth, the detective in charge of the Fairview Strangler case, has finally caught a break with his first viable suspect. Trouble is, when they find Irina's body, they haul Preston in for questioning. Since he was in Europe when the other murders took place, Preston's in the clear. But even so, the investigation spooks Eddie into moving back home. Lynette tells Eddie, "I already think of you as family," as she hugs him goodbye and we get a chill when he says, "I would have turned out so differently if you were my mom."
Gaby is shocked to find out that Carlos hates the lasagna she's been cooking him for the last 11 years. She's tried to replicate his mother's version, but Mama Solis was killed in a hit and run before she could share the recipe.
One of the reasons Mike's in such a deep financial hole: His clients haven't been paying him. "It's time people pay the piper for the pipes," Susan insists. She decides to collect the back payments in person, but when crying doesn't get her anywhere, she discovers that her "inner bully" is much more effective. Susan is so successful in gathering payments that she thinks they're in the clear, until Mike informs her they've got IRS troubles. Susan decides to exercise her newfound bullying skills on the IRS, but instead they get saddled with enormous fines. Mike laments, "We've got nothing to fall back on," but Susan somberly tells him, "We've got the house." They tell their friends they'll be renting out their house, while they'll live in a nearby apartment.
Bree doesn't know how to get rid of Sam, so Orson suggests that they pay him off. Bree drafts a substantial check, claiming it was what Rex would have wanted, but when she tries to show Sam the door, he tears up the check. "You can't buy me off. I belong here. I'm a Van de Kamp. If you ever insult me again, you're going to wish you hadn't."
Bree's next move is to invite Sam and some "friends" over for tea: two retired cops who share their off-the-book methods of intimidating dirtbags with him. Sam gets the message and Bree is thrilled: Until Sam responds with his own threat. "I want you to sign over your company to me," he says, or else he'll tell the cops about "Andrew, your son, getting into a car and running down Carlos's mother."
Patrick is holding Angie hostage in her home so she'll build a bomb for him, so it's a bit awkward when Gaby barges in asking for Angie's best lasagna recipe. Danny arrives home, thinking that Angie has texted him, and Patrick takes him hostage as well.
Gaby returns with the lasagna to ask Angie to taste test it. Seeing her chance, Angie takes the dish into the kitchen and inserts a note saying, "Danny and I held hostage. No cops. Get Nick." But Gaby, thinking that Angie hated her lasagna, throws it out. Luckily, Juanita and Celia get hungry and fish it out of the garbage, and find the note.
At the precinct to pick up Porter, Lynette overhears that the police have found another body: Barbara's! Lynette's first thought is to rush to Eddie and tell him the bad news, but before she can finish the sentence, "It's about your mom..." he tells her he just spoke to his mother and she's fine! Lynette is relieved, saying she must have misheard the name. We're horrified when she realizes what's really going on. "You didn't just talk to her," she says. "And your mom's not in Florida, is she?" "I really wish you hadn't come here," Eddie says and proceeds to lock the door!