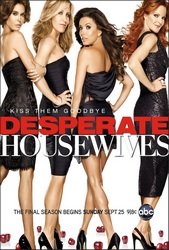 TV Info
---
Episode Premiere
April 19, 2009

Distributor
ABC

Genre
Drama, Comedy

Show Period
2004 - 2012

Production Company
Cherry Alley


Cast and Crew
---
Director
Larry Shaw
Screenwriter
Matt Berry
Main Cast
Additional Cast
Kathryn Joosten
Kevin Rahm
Stephen Lunsford
Synopsis
---
After Edie dies, her friends share memories of her during a four-hour drive to bring her ashes to a relative.
Susan remembers that she and Edie actually started off as friends, until Edie revealed that she was sleeping with a married man. The friendship was off, but Edie still tried to do Susan a favor, telling her she saw Susan's then-husband, Karl, out with another woman, but Susan didn't believe her. "I'm trying to help my neighbor out. I thought it was the moral thing to do," Edie said. "Three weeks later, I found Brandy's bra in Karl's glove compartment," Susan tells her friends.
Lynette asks, "You guys remember when you took turns driving me to chemo? Well, no one did it like Edie." While everyone else babied Lynette, Edie hauled her to a motorcycle bar, where she pointed out the hard-living men who didn't let having lost a limb or two slow them down. "You are strongest person I know," Edie insisted. "You need to start fighting this thing. You need to remember who you are. Screw cancer. You are Lynette Scavo." Lynette teared up, then downed a tequila shot.
Bree tells of her first visit to Orson in prison. Bree balked at going into the visiting room and was shocked to hear that another woman had been visiting Orson every week. She went to visit Edie, who now lived far from Wisteria Lane, demanding to know what she was up to. "I'm not up to anything, you redheaded ice-cube," Edie snapped. "I know what it's like to be exiled from suburbia." Bree was reassured that Edie wasn't trying to start anything but Edie wanted to know why Bree hadn't been to see Orson yet.
Bree couldn't explain, so Edie coldly advised her, "Now that I think about it, don't visit him. He can do so much better than you." Bree immediately returned to the jail. "You have every right to hate me," she told Orson. "Now that I see this place, I don't know what I was thinking. How can you ever forgive me?" she asks. "Just be there when I get out," he answered, and took her hand.
Gabrielle reveals that Edie knew she was going to die young: She recalls how she and Edie went out clubbing after she and Carlos got divorced. When a man sent Gabrielle a drink, Edie challenged her to a contest: "Whoever gets a man to buy her the most drinks in an hour, wins." Gabrielle wins, and is forced to take a cab home when Edie leaves without her. She finds Edie waiting on the swings. "It's gone by so quickly," Edie said sadly of her youth. "All the makeup and dim lighting in the world can't seem to stop it. Ever sine I was a child, I've known that I was never going to see 50. A voice in my head said, 'Live it up today, because there's not going to be a lot of tomorrows.'" She revealed she appreciated her life in a way that "most people don't."
The van arrived at its destination, and Edie's friends must tell her son, Travers, that his mother is dead. Lynette tells him about Edie's accident: "I am so sorry, but she passed away." Travers insists he's fine, and that he has to get to class. "I'm sorry she's dead, but we weren't very close. My mom didn't even try to raise me," he says bitterly, and Karen grabs him by his prep school tie to tell him his mother did love him.
She reveals how Edie found her drinking one day, on the anniversary of her son's death. "Nothing worse than losing a child," Karen said, telling Edie, "You're lucky you don't have any." Edie confessed that she did, but that she never saw him because he lived with his father. "I gave him up because I wanted to protect him," she insisted. "From who?" Karen asked "From me! I tried to be a good mom, I really did. But if he was going to grow up normal, he needed to get away from me," she stated, saying she just wanted to give him a chance. "I love him enough to let him hate me," she revealed. Karen poured her a drink: "I hope you're not making a big mistake." "Me too," said Edie.
Travers is shaken, and thanks them for driving all the way to tell him in person. Gabrielle presents him with the ashes, suggesting he might want to scatter them, but he says, "Why don't you guys take them? You were her best friends. You know where she belongs."
Her friends return home, but they haven't figured out where to scatter her ashes. "Edie, what are we going to do with you?" Karen asks the urn, and just then her front door blows open. As she looks down the street, Karen decides it's a sign to share Edie with all her friends, and the next morning they split the ashes between them. As a farewell, Lynette suggests they each say one word that sums up how they felt about her. "Edie Britt was sexy," says Gabrielle. "Perceptive," says Bree. "Strong," is the word Lynette chooses. "Beautiful," says Karen. "I need four words," Susan says. "One of a kind."
The women each return to their houses and sprinkle Edie's ashes in their front yards. 'It's not hard to die when you know you have lived," Edie says in voiceover. "And I did. Oh, I did."