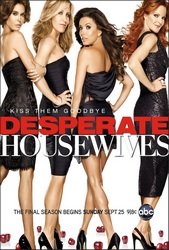 TV Info
---
Episode Premiere
May 13, 2007

Distributor
ABC

Genre
Drama, Comedy

Show Period
2004 - 2012

Production Company
Cherry Alley


Cast and Crew
---
Director
Larry Shaw
Screenwriter
Bob Daily
Main Cast
Additional Cast
Pamela Shaddock
John Rosenfeld
Edward Stanley
William Ragsdale
Ellen Geer
Synopsis
---
Susan is disappointed when Mike doesn't pop the question when he takes her out for a lavish dinner since it's the anniversary of the night he was originally going to propose to her at the trailer. She chews him out in the car for not being "thoughtful" enough and he points out the same trailer decked out with lights in front of his house. He's all set to propose but she can't wait and asks him to marry her.
She calls everyone from her florist to her caterer to let them know that her wedding is back on with the same date and all the same arrangements, except for the groom. But Gabrielle says she can't make it because that's her wedding day too! She co-opted Susan's date because nothing else was open and she knew all their friends would be free. After an initial snit, Susan is prepared to be magnanimous until she finds out that Gabrielle is copying her wedding down to the last detail, including pink tulips in the centerpieces.
They have a vicious fight, in which they call each other's choice of groom into question. Susan decides it's not worth losing their friendship over and is on her way to apologize with a bottle of wine when Gaby shows up with a box of chocolates for the same reason. As they polish off the wine and chocolates Gaby comes up with the perfect solution: They should have a double wedding!
The next morning, both of them are having second thoughts about sharing her big day. Fortunately, Mike offers to be the fall guy so Susan can get out of it gracefully. And Victor objects to sharing his wedding day with a convicted felon. Gaby is disappointed to realize that the reason Victor has been so attentive to every detail of the wedding is because it'll be a media event.
Susan and Gaby break the "bad news" to each other and Susan says she and Mike can wait until the fall to get married. She adds that the 1 percent of doubt she had about Mike that their fight raised is now gone and Gabrielle says that must be nice.
Mike jokes to Edie and Carlos not to get wedding fever since it's going around. Carlos laughs heartily at the idea and Edie is hurt that he wouldn't even consider the possibility. She asks him to move in with her and he begs off, saying he's just taken over Mike's lease, now that he's moving in with Susan, and he wouldn't want to leave the owner, Mrs. Sims, without the income from the rent.
Edie goes to pay Mrs. Sims a visit at the retirement home and when Carlos' name comes up as her new tenant, proceeds to badmouth him as a drug user and worse. Mrs. Sims promptly tears up the rental agreement and evicts Carlos, who immediately recognizes Edie's handiwork. She asks why he's so opposed to moving in with her and he finally admits that he's not in love with her. "That's too bad," she says, because she's just purchased a home pregnancy kit. As they wait for the results, he says he'll stand by her if it's positive. He begins spinning elaborate plans for the baby and the baby's room when she reluctantly informs him the test is negative.
Later, she tells him she knows he was disappointed that she's not pregnant and so was she. She suggests that he move in and really try for a baby; even if he's not in love with her, this is the best either of them can hope for. He agrees, saying he's tired of waiting for his life to start. She says she's going to flush her birth control pills down the sink but secretly keeps taking them.
Parker asks Lynette if she's mad at Tom because she isn't speaking to him and she insists that it's a "comfortable silence." Tom persuades an old college buddy to stop by the pizzeria without telling Lynette that the friend is now a marriage counselor. When the conversation drifts to their current "rough patch," Lynette realizes what's going on and pulls the plug on the impromptu therapy session.
That night, Tom says his doctor told him he if he was careful, he could have sex again and Lynette says she's not remotely in the mood. Tom gives her the choice of having sex or talking to him and she straddles him and starts kissing him roughly. He's horrified that she'd do anything rather than talk to him and wants to know what he possibly did to make her so angry with him. She tells him he forced Rick to reveal he had feelings for her and so she had to fire him. In the ensuing fight, she falls off the bed and bangs her head on the night stand.
As they wait to see the doctor in the emergency room, Tom wants to know what she told Rick when he said he had feelings for her. When Lynette doesn't reply, Tom correctly guesses that she fell for Rick and is still not over him. She assures him that nothing happened and it's over but he knows that's not the end of it. Just then, the doctor calls them in. Lynette's head is fine, but he saw something on her X-rays he didn't like, some swelling that might be lymphoma. Lynette is stunned at the news and Tom quietly reaches over to hold her hand.