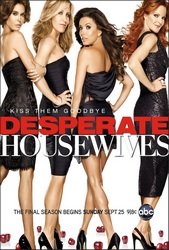 TV Info
---
Episode Premiere
February 13, 2005

Distributor
ABC

Genre
Drama, Comedy

Show Period
2004 - 2012

Production Company
Cherry Alley


Cast and Crew
---
Director
Jeff Melman
Screenwriter
Tom Spezialy
Main Cast
Additional Cast
Roz Witt
Carlease Burke
Timothy Davis-Reed
Jolie Jenkins
Jon Polito
J. David Krassner
Synopsis
---
Susan shares what she's found out about Zach with her friends, that he killed his baby sister, Dana, as a child. But they still haven't figured out why Mary Alice told her therapist that her real name is "Angela." Felicia, Martha's sister, stops by Paul's and sees a photo of Mary Alice, whom she instantly recognizes as someone she used to know called Angela. Paul tells her she's mistaken.
Gabrielle can't book any more jobs as a model after she's labeled difficult. She takes her frustration out on her maid, Yao Lin, who tells her "You are not better than me! The only reason you have anything is because you are pretty." Gabrielle promptly fires her. The only job Gabrielle can find now is as a lingerie-wearing "mattress model" at a mattress store. When she puts up a sign that reads "Do not talk to the model," the owner fires her. Finally, Gabrielle swallows her pride and takes a job at a makeup store. Who should walk into the store, but Yao Lin, who clearly delights in having Gabrielle wait on her for a change.
Bree tells Dr. Goldfine she's happy she and Rex are back together, but there's something he's still not telling her, which is why he had the affair. "We're WASPs. Not acknowledging the elephant in the room is what we do best," Bree tells the therapist, when he urges her to be open with Rex. Taking Dr. Goldfine's advice, Bree pushes Rex to tell her what his secret is and he finally admits, "I like to be dominated." She's reluctant to go along, but she finally agrees. But before she handcuffs Rex to the bed, she asks if she can run the handcuffs through the dishwasher first.
Lynette is surprised when her boys give her a present she actually likes -- a beautiful flower pot they made for her. But then her neighbor, Mrs. McCluskey, a crotchety older woman, claims it's hers, and she has proof -- there's a price tag on the bottom. Lynette lets the boys off with a warning, if they swear never to do it again and write apology notes. Then Mrs. McCluskey accuses the boys of stealing her clock. The war escalates when Mrs. McCluskey runs over one of the boys' bikes with her car and Lynette retaliates by throwing eggs. Tom discovers a treasure trove of stolen things in the boys' playhouse, including the clock. The boys go over to apologize in person and Mrs. McCluskey shows an unexpectedly soft side when she reveals that her own son died when he was 12. It's a side Lynette, who waited outside, will never see. While returning all the stolen objects to the neighbors, Lynette shows Susan something the boys stole from Mike's garage: A bloodstained bracelet engraved "Martha Huber."
Susan and Mike have reservations at an upscale restaurant for Valentine's Day. But a warning bell goes off when he lets it slip that he wants to have kids of his own someday. Meanwhile, while continuing his investigation, Mike breaks into a house and gets shot in the side. Since he doesn't want to tell Susan what's happened, he goes through with their dinner date. Just as she's starting to ask whether he wants children, he realizes he's bleeding badly and excuses himself. She thinks he's breaking up with her, but then he collapses, revealing his bloodstained shirt. At the hospital, he tells her he accidentally shot himself while cleaning his gun and was too embarrassed to tell her. And then he tells her that he'd rather have her than be a dad. Susan doesn't know what to think when two policemen arrive just as she's leaving.