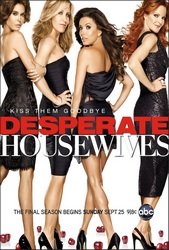 TV Info
---
Episode Premiere
December 12, 2004

Distributor
ABC

Genre
Drama, Comedy

Show Period
2004 - 2012

Production Company
Cherry Alley


Cast and Crew
---
Director
Larry Shaw
Screenwriter
Jenna Bans
Main Cast
Additional Cast
Jill Holden
Lou George
Marla Sokoloff
Hamilton Camp
Gregg Daniel
John Bisom
Kathryn Harrold
John E. Jimmo
Synopsis
---
Paul buries Mrs. Huber in a shallow grave in a park. Some light is shed on one of the other mysteries surrounding Paul: we find out that a woman's body was in the trunk he tossed in the water.
When Gabrielle feels unfulfilled, she is inspired to throw a fashion show fundraiser to benefit the nurses at the hospital where Mama Solis is. One of the models is Mrs. Rowland, John's mother, who thanks Gabrielle for hiring him as her gardener, little knowing what's really going on. John shows up to help Gabrielle out and Susan catches Gabrielle with her foot in John's lap. Susan tells Gabrielle she can't believe she would do that to Carlos, or act like Susan's philandering ex-husband, Karl. Mrs. Rowland overhears John talking with a friend and learns he's been sleeping with a married woman, but not which one. She incorrectly assumes it's Susan.
Backstage at the fashion show, everyone oohs and aahs over how great Susan looks in her dress, until Mrs. Rowland shows up and tears it to shreds. An embarrassed and confused Susan stumbles out onto the stage, her beautiful dress in tatters. Furious, Susan demands that Gabrielle tell Mrs. Rowland the truth. Gabrielle reluctantly comes clean to John's mother, who is understandably upset. Gabrielle assures her it's over, but is told, "It's not even close to being over." When police descend on the Solises, Gabrielle fears the worst - Mrs. Rowland has turned her in. She rushes to confess to Carlos, but it's Carlos who is led away in handcuffs, claiming that his boss set him up. After Carlos' arrest, Susan shows up to comfort Gabrielle.
Susan thinks it's weird that Zach is writing to Julie, and is even more concerned when Julie confesses it's not the first letter she's gotten from him. A doctor tells Paul that Zach has escaped from the institution, and that Zach is getting progressively worse without therapy. Unbeknownst to Susan, Julie is hiding Zach in their house. Julie shows Zach the blanket that used to belong to Dana and he tells her his secret: He think he killed his baby sister when he was little. Paul comes by looking for Zach, but Susan tells him he's not there.
Lynette tells Tom they have to hire a nanny full-time or she will lose her mind. After striking out on her own, Lynette asks Bree where she "score some high-grade nanny," namely by poaching one from one of Bree's rich friends. At the park, Lynette falls in love with Claire, a sweet and caring nanny who works for an uptight business woman. Lynette convinces Claire to leave her nightmare of a boss and come to work for her instead.
Bree wants to punish Andrew further for the hit-and-run by making him quit the swim team, but Rex disagrees, saying he'll lose his chance at a scholarship. Then Bree flips out when she discovers that Andrew's been smoking pot and demands he pee into a container. Tracking Rex down at the the golf course, Bree tries to hand over Andrew's urine sample to him so it can be tested. Rex refuses and tells her he's glad they're getting divorced because he's tired of how she's always pushed him around. Hurt and angry, Bree opens the container and throws the urine on him in retaliation. Bree finds out Andrew keeps his pot stash in his gym locker and plans to take it away from him. But then she gets a better idea: She anonymously tips off the school, resulting in his being kicked off the swim team, just as she'd wanted.