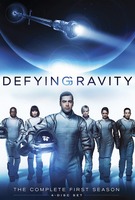 TV Info
---
Episode Premiere
September 06, 2009

Distributor
ABC

Genre
Drama, Sci-Fi

Show Period
2009 - 2009

Production Company
BBC, Fox Television Studios, Omni Film Productions


Cast and Crew
---
Director
Jeff Woolnough
Screenwriter
Chris Provenzano
Main Cast
Synopsis
---
Boo! It's Halloween aboard the Antares, and the forces of darkness are revealed in more ways than one. Feverish hallucinations jeopardize the lives of the crew just as they're about to embark on a promotional event for which the whole world is waiting.
At Mission Control, Goss (Andrew Airlie) is ramping up for an outer space Halloween promotional stunt that will result in ten billion dollars worth of scientific funding-a commercial for Comet Candy, starring our eight heroes as they go trick-or-treating in space, outside the ship.
But there's just one problem-nearly all the astronauts have racing heartbeats and elevated temperatures. Stranger yet, Eve is suffering from the same malady back on Earth. Is this something to do with Beta, we have to wonder?
Desperate to keep the project on track, Goss orders Claire to attribute the symptoms to contaminated HALOs, the crew's removable libido inhibitors. But the problems continue to escalate, with disturbing hallucinations plaguing almost everyone on board-and Eve.
In spite of their efforts, we soon realize that the live broadcast of the stunt from space is doomed: Ted is left clinging to the edge of the spaceship in a dust storm mirage, while Nadia is frozen at the controls by an illusory figure. Both Mintz and Paula are trapped in a truss corridor by terrifying visions. Finally, Donner and Zoe who were immobilized by their own phantasms, finally discover that they are also connected by an identical dream.
In the end, Donner orders the commercial to be aborted mere minutes before its set to broadcast. We watch as the Comet Candy execs angrily threaten to sue the space program and chastise Goss, saying they hope he's embarrassed by the fiasco.
"The only embarrassment I suffered was watching astronauts carry candy buckets into space," Goss retorts. "As to the rest, my man made the right call."
We're amazed to hear Goss actually stand up for Donner and the crew, and we're left wondering whether or not there might be a decent guy buried beneath that hard shell he dons so often.
Now that's scary!