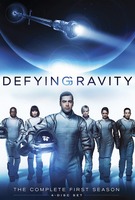 TV Info
---
Episode Premiere
August 23, 2009

Distributor
ABC

Genre
Drama, Sci-Fi

Show Period
2009 - 2009

Production Company
BBC, Fox Television Studios, Omni Film Productions


Cast and Crew
---
Director
Marcie Ulin
Screenwriter
Meredith Lavender, Marcie Ulin
Main Cast
Synopsis
---
We're treated to a humbling episode, wherein the each crew member of the Antares deals with a personal point of no return. Simultaneously, the ship crosses a critical boundary when going back to Earth is no longer an option &mdas and the home planet becomes just another twinkling light in a vast canopy of stars.
As the Antares is on the verge of crossing the proverbial Rubicon - the point in the journey, Nadia explains to us, after which it is no longer possible to return to Earth - Ted decides to create a time capsule to commemorate the significant event. Each crew member struggles to find a personal item to donate.
But lest you think it's all heavy and emotional, Nadia steps up her efforts to - what else? - carry on the same kind of "friends with benefits" relationship on Antares that she had with Donner on Earth. So far, we see he's not biting. When Nadia suggests that he's holding out for Zoe, Donner scoffs at her. Hmmm. We think might be on to something!
In the space laboratory, Jen (Christina Cox) continues to bond with the rabbit embryo she should have destroyed by now - which is now 21 days old. When she shows it to Rollie over the video monitor, he sternly reminds her that it's not a real baby - something she admitted to him earlier she wishes she had.
In a flashback to their astronaut training days, while Zoe (Laura Harris) wrestles with the dilemma of her pregnancy, she's visited by her mother, Bev. We're amused at their constant banter back and forth, but Bev soon guesses that her daughter is expecting. Of course, the gallons of ice cream Zoe devours in her presence might have been a major giveaway.
Meanwhile, Eve secretly views the tapes and documents from the Mars disaster, and learns that it could have been all been averted by Goss. We're glad to see someone finally has an upper hand with that smug jerk!
At the end of the flashback, we see Nadia seduce Donner for the first time - but it's only after he's rebuffed for the umpteenth time by Zoe.
It's becoming more and more apparent to us that, as the Antares hurtles toward Venus, the past will forever weave its karmic threads around our eight heroes' present.