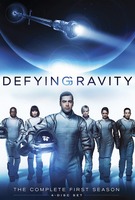 TV Info
---
Episode Premiere
August 09, 2009

Distributor
ABC

Genre
Drama, Sci-Fi

Show Period
2009 - 2009

Production Company
BBC, Fox Television Studios, Omni Film Productions


Cast and Crew
---
Director
Peter Howitt
Screenwriter
Sheri Elwood
Main Cast
Synopsis
---
Taboos are broken and lines are crossed as the personal and professional relationships on the Antares and on Earth continue to intensify. Simulataneously, the unseen power behind the mission - the mysterious force we've come to learn that inhabits Pod 4 - begins to create both cellular and psychological transformations among the astronauts.
Profoundly disturbed by his experience in Pod 4 last episode, Ted (Malik Yoba) is ordered to return there by his wife, Eve (Karen LeBlanc) - an event which tests their marriage.
And despite Rollie's (Ty Olsson) awareness of a previous romantic relationship between Ted and his wife, Jen (Christina Cox), he makes a risky decision in asking her to give Ted the support he needs. When we see their interaction, however, it's clear to both us and Rollie that there are still some romantic feelings stocked away in both of them.
But lest we think that's the only romantic entanglement going on in deep space, Zoe (Laura Harris) and Donner (Ron Livingston) also find themselves trying to deny their deepening attraction. Ah, well - sexual tension just seems that much more exciting hundreds of thousands of miles of the ground, anyway!
Meanwhile, Paula (Paula Garces) has to postpone her video broadcasts as she is felled by a very nasty case of G-sickness. We tried to count exactly how many times she vomits in this episode, but lost got grossed out and finally lost track.
Back on Earth, devastated by the realization that he is permanently shut out from Mission Control, Ajay (Zahf Paroo) is literally incapable of going back to his apartment again to resume his old life. He's basically been demoted off the Venus expedition altogether, and is now relegated to the research department. Ironically - despite him being out of the loop, now - we're finding his plotline to be one of the most touching!
Back at the Control Centre, flight Surgeon Claire (Maxim Roy) is shocked to discover that all of the astronauts appear to have a set of identical gene variations, something that is virtually impossible. While we're not exactly sure yet what the heck this means, we're guessing it might spell out trouble for our eight weightless heroes. Things get creepier when we learn Eve has the same gene variation, as well.
Back on the Antares, an apparent system malfunction shuts down the Venus Lander tests. Once again, we're aware that something seems to be overriding the programming. But is it the same something causing havoc with Ted's mind, which lies inside Pod 4?
In a sexy and amusing flashback to their training days, the astronauts stage a contest involving their libido inhibitors (HALOs) in which the guys, wearing their HALOs for 24 hours, attempt to "beat" the devices. This leads everyone to a strip club, where Nadia (Florentine Lahme) outdoes the professionals with her lap dancing skills and causes Ajay to, uh, rise to the occasion.
We gotta hand it to the sultry German galactic pilot - she maneuvers well both with and without gravity!