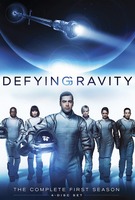 TV Info
---
Episode Premiere
August 02, 2009

Distributor
ABC

Genre
Drama, Sci-Fi

Show Period
2009 - 2009

Production Company
BBC, Fox Television Studios, Omni Film Productions


Cast and Crew
---
Director
Peter Howitt
Screenwriter
James Parriott
Main Cast
Synopsis
---
A complex web of dreams, desires and illusions is weaved as the Antares crew finds that some past choices--combined with an unknown element in the ship's mysterious Storage Pod 4--may result in a life-threatening crisis.
With the Antares well on its way to Venus, the crew adjusts to life on board the ship. One astronaut we're keeping our beady eyes glued to the most is the sultry Nadia (Florentine Lahme), who, in spite of the libido-suppressing HALOs supposedly worn by everyone on board, continues her seductive designs on Donner (Ron Livingston). Looks like zero gravity is no match for lusty proclivity!
Meanwhile, biologist Jen (Christina Cox) works on a mission-long experiment on rabbit sperm/egg selections in a weightless environment; and geologist Zoe (Laura Harris) still hears a crying baby, seemingly coming from Storage Pod 4, which is off limits to most of the crew. Do we even need to mention how much this makes our skin crawl?
he weirdness continues as we witness an eerie flashback to Zoe's pregnancy five years earlier--the consequence of a torrid night with Donner during the astronaut-selection process. In a strange echo of the dream Zoe still shares with Donner, she's inexplicably ejected into space during a routine test, resulting in a near fatal incident.
Luckily Donner is there to reel her back in before she loses pressure entirely in her space suit. Of course, watching him come to her rescue makes us our own blood pressure rise as our hearts go pitter-pat!
After Ted (Malik Yoba), now spaceship commander, is briefed by his wife Eve (Karen LeBlanc) about the true nature of the mission, he enters Pod 4 and is confronted by a frightening sandstorm in what seems to be a recreation of his and Donner's disastrous Mars mission years prior.
Meanwhile, back at Mission Control, Commander Goss (Andrew Airlie) holds a press conference, ostensibly to explain the abrupt removal from the Antares of Ajay (Zahf Paroo) and Rollie (Ty Olsson). Skeptical BBC reporter Trevor (Peter Howitt) is determined to discover the truth. It's not hard to see already that Trevor's gonna be a major thorn in Goss' rigid side.
But while Rollie is given a position on the ground team at Mission Control, we sadly learn that Ajay is deemed to be unstable after a round of psychological testing.
If it seemed like he lost his marbles a bit in the previous episode, we hate to see what he might do next after losing his job!