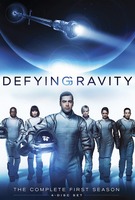 TV Info
---
Episode Premiere
August 02, 2009

Distributor
ABC

Genre
Drama, Sci-Fi

Show Period
2009 - 2009

Production Company
BBC, Fox Television Studios, Omni Film Productions


Cast and Crew
---
Director
David Straiton
Screenwriter
James Parriott
Main Cast
Synopsis
---
As the cosmic series begins, we meet a team of eight international astronauts as they embark on a six-year journey to explore Venus and other planets in the solar system. Of course, with four men and four women on board, we're guessing their might be a bit of exploration in store on the ship, as well as off.
But, that said, things aren't always so simple. We soon find that the crew's lives and destinies are intertwined and carefully directed--not only by Mission Control officials on Earth, but also by an unseen force which is much closer and far more powerful.
Only hours from leaving Earth's orbit aboard the spaceship Antares, our eyebrows raise as two of the eight novice astronauts onboard mysteriously develop heart ailments. For ship's engineer Ajay (Zahf Paroo) and Rollie (Ty Olssen) it means a premature return to Earth, and replacement by Donner (Ron Livingston)--an experienced astronaut who we soon learn lives under the shadow of a previous mission, during which he was forced to abandon two people on Mars--and Ted (Malik Yoba), who will have to leave behind his wife, Eve, (Karen LeBlanc) at Mission Control.
s you can imagine, Ajay and Ted are devastated--Ajay because he's forced to abandon his life's path, and Ted because he'll now be separated from Eve for six years. Man, think about it--could you leave your spouse or significant other for six years? That's harsh.
Donner's arrival disturbs beautiful young astronaut Zoe (Laura Harris) who, we soon find out, is linked to him by a strange dream and a romantic encounter from their early training days. But the sensual Nadia (Florentine Lahme), who has strictly carnal intentions, is delighted at the newcomer's presence.
While we're worried about these two gals duking it out at some point, they do always say that in space no one can hear you catfight!
Although nearly every facet of life on the Antares is broadcast to both us and the avid viewers on Earth by documentarian Paula (Paula Garces), there is also a hidden force that appears to be controlling events from within the spacecraft. For instance, Zoe tries to locate the source of a baby's cry, audible only to her. We're also shocked to watch a despondent Ajay eject himself into space. Fighting against time and ignoring orders from Mission Control, we watch Donner rescue Ajay in a courageous act of redemption and profound spiritual significance.
With the real purpose of the mission known only to flight director Mike Goss (Andrew Airlie) and a select few, we finally catch a glimpse of the Antares as it leaves Earth's orbit and heads off for its 72-month trek.
And while space may indeed be the final frontier, we're guessing the Wild West was nothing compared to what our team of celestial explorers is in for!