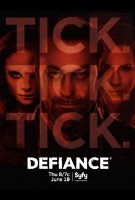 TV Info
---
Episode Premiere
July 17, 2014

Distributor
Syfy

Genre
Action, Drama, Sci-Fi

Show Period
2013 - Now

Production Company
Universal Cable Prod.


Cast and Crew
---
Director
Allan Kroeker
Screenwriter
Nevin Densham
Main Cast
Grant Bowler as Chief Lawkeeper Joshua Nolan
Julie Benz as Mayor Amanda Rosewater
Stephanie Leonidas
Lee Tergesen
Tony Curran
Jaime Murray as Stahma Tarr
Graham Greene
Jesse Rath
Trenna Keating
Nicole Munoz
Anna Hopkins
William Atherton
Mia Kirshner as Kenya Rosewater
Justin Rain
Conrad Coates
Nichole Galicia
Kevin Murphy
Synopsis
---
Amanda's been hitting the smack pretty hard. Though hallucinations aren't a known side-effect of Adreno, she and Nolan are having a tough time finding an alternate explanation for the visions she's having of the man who raped her back in New York finding her in Defiance and trying again. The episodes get worse, so Pottinger installs her in Rafe's old house with Tommy and Irisa standing guard. In a move that makes us do an epic facepalm, Tommy gives Amanda a gun. That sound? That's us smacking ourselves on the forehead, cuz guess what? Amanda trips out and sees Tommy and Irisa as assailants. She knocks Tommy over the noggin, and fells Irisa with a bullet. (Psst... Irisa's kinda immortal these days, thanks to the weird alien tech in her DNA thanks to Irzu, and she heals right up - but don't tell anyone, 'kay?)
Datak wishes he were hallucinating when he shows up at his house to claim his Casti right to "protect his lineage" (read: insinuate himself into his grandchild's life against Christie's will) and sees Rafe wearing his slippers and making eyes at his wife. Not only does this not slow him down, he actually includes Rafe in his newest plan to take over the world: after striking a deal with a Votanis Collective rep to be the new power broker and push the E-Rep out, Datak asks Rafe if he'll put in a good word with Christie in exchange for some military might with the VC. Rafe doesn't spit in his face - looks like we have a deal!
Doc Yewll wishes she weren't hallucinating, but knows she is. Her former lover - and lab partner from her days of treating humans like frogs in a 7th grade biology class - has returned to ask Yewll to join her in the afterlife. It's tempting, but Yewll knows she has to stay in Defiance and fix up these humans as penance for what she did in her earlier, eugenic days.
And, since she's having this particular hallucination, Yewll knows that the device she implanted in Amanda (at Mayor Big Brother's behest, naturally) has divided and inserted itself into her own system. Meaning: major malfunction that's endangering Amanda's life. She returns just in time to pop it out of the politician/madam, but doesn't tell Nolan how it got there. No, instead she finds Pottinger and extracts the device that found its way into him. She assures him that the nightmare is over, they have all of the memories they need from Amanda, and no one else's brain will be a part of "Phase II" - whatever that means. What are you up to this time, Niles?
A small comfort is that the Mayor of Eviltown got his own haunting hallucinations in the form of Conor Lang - yeah, Amanda's ex-fiance, killed by an Irathient rebel right here in Defiance! Apparently, the two were buddies in school. Niles may have even had a little crush on Conor after he comforted Niles when the Votans attacked... but memories are unreliable, and hallucinations even more so. Looks like we won't have the whole truth for some time to come.