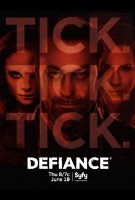 TV Info
---
Episode Premiere
April 15, 2013

Distributor
Syfy

Genre
Action, Drama, Sci-Fi

Show Period
2013 - Now

Production Company
Universal Cable Prod.


Cast and Crew
---
Director
Scott Stewart
Screenwriter
Rockne S. O'Bannon, Kevin Murphy, Michael Taylor
Main Cast
Grant Bowler as Chief Lawkeeper Joshua Nolan
Julie Benz as Mayor Amanda Rosewater
Stephanie Leonidas
Lee Tergesen
Tony Curran
Jaime Murray as Stahma Tarr
Graham Greene
Jesse Rath
Trenna Keating
Nicole Munoz
Anna Hopkins
William Atherton
Mia Kirshner as Kenya Rosewater
Justin Rain
Conrad Coates
Nichole Galicia
Kevin Murphy
Synopsis
---
2013. A young boy and his family are picnicking when they look up and see massive alien spaceships enter Earth's orbit. The boy stands, shocked and transfixed.
2046: It's a story as old as time: A young woman is super mad at her father. But there, the story changes, since Nolan is human and Irisa belongs to a race called Irathients, part of the Votan cadre of aliens who arrived on Earth and transformed it to something completely different. As they tumble through a post-apocalyptic landscape, Irisa is writing in her journal in some freaky alphabet, saying her dad's plans turn to "shtako," the coolest fake swear word since "frak" (The only fake swear word since "frak"? Probably.). The Johnny Cash song "Jackson" comes on the radio, saved by the Post-Apocalyptic Society for the Preservation of Cool. Nolan and Irisa are hunting fallen pieces of space junk from the wrecked ships of the long-dead intergalactic war that brought alien races to Earth and made them native. There's a payload straight ahead, and when they reach the ship (or "ark", in the new world's lingo), there's a cool, glowing soccer ball-thing that's worth top "ja-ja" to the Earth Republic. When they sell it, they'll be rich.
But their celebration is cut short when Nolan turns to see Irisa held at gunpoint by Spirit Riders, a Mad Max-style gang of Irathients - Irisa's race. They're after the soccer ball (really called a terrasphere). They're about to take everything the small family has when Irisa pulls a ninja knife move, allowing Nolan to get free and the two to make their getaway. Too bad Irisa gets shot in the process.
Nolan carries the wounded Irisa through woods infested with some kind of spider-wolf hybrid. He sets her down and buries the sphere for safekeeping, then draws his piece as several of the alien monsters approach. Nolan empties his energy bullet-clip, but the beasts keep coming until a stranger arrives and scatters them. He brings them to the nearby town, of which he is Lawkeeper, to recover. Nolan sees the giant arch in the center of the town. "Is this St. Louis?" he asks. "It used to be," says Lawkeeper Clancy. "Now we call it Defiance." The view of the pioneer city is as epic as a title shot should be.
Once Nolan's out of Doc Yewll's (an Indogene, one of the alien races) sick bay and convinced Irisa's in good hands, it's time for him to meet the Mayor, Amanda Rosewater. She's three weeks on the job - her beloved predecessor, Nicky Riordan, has gone into retirement (but is still feisty, as we see). Amanda just wrapped up an address to the town - crumbling and being built grander - to kick off the celebration of the day of armistice, and the "defiant few" for which the town was named. The party is sponsored by the two big families of the town, the Tarrs (a Votan race called Castithans) and the McCawleys (plain ole' humans). The patriarchs, Datak Tarr and Rafe McCawley are clearly rivals, but it seems the youngest progeny - Alak Tarr and Christie McCawley - have a little Romeo/Juliet thing going on.