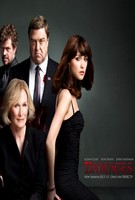 TV Info
---
Episode Premiere
September 14, 2011

Distributor
DirecTV, FX Network

Genre
Thriller, Drama, Mystery

Show Period
2007 - 2012

Production Company
FX Prod., Sony Pictures TV


Cast and Crew
---
Director
Todd A. Kessler
Screenwriter
Todd A. Kessler, Glenn Kessler, Daniel Zelman
Main Cast
Synopsis
---
Carter stops Afghan men from killing Chris Sanchez. Ellen tells Erickson to make an offer to her clients and she will make sure the case is dropped as long as he produces evidence Sanchez is alive.
Patty and Michael along with his attorney meet regarding Catherine. They inform Patty their case is built on proving Patty is an unfit mother.
Sanchez wakes up, and Carter tells him Ellen made a deal to save his life. Carter has Sanchez hold a proof of life message. As Carter leaves the holding cell, it's revealed they are no back in the U.S. on the High Star compound. As the boy is playing soccer the ball accidentally goes down the stairs. When he retrieves it, he's finds Sanchez. They recognize each other from the last mission (the boy's kidnapping). The boy reveals he saw what happened to the soldiers.
Patty confesses to Herndon she isn't dropping the case. She plans to bring a new case against High Star, and calls the judge to file a complaint.
Carter finds the boy with Sanchez. Carter tells Sanchez Ellen has arrived on the compound and if she delivers, he's free. Sanchez tells Carter the boy was the target, and his men were shot by Boorman when they refused to take the boy captive. Boorman is discovered hiding in Ellen's trunk.
Ellen calls Patty to find out what she's doing, and Patty refuses to drop the case. Carter finds Ellen and tells her he knows where Sanchez is being held. Boy finds his way back to the holding cell and sees the hooded man in the cell is dead. Carter goes to get a car and sends Ellen to the holding cell to get Chris. Ellen discovers Chris's medallion in the bloody cell. The boy comforts Ellen, and as they are leaving they find Chris alive. Reveal that Boorman was the one killed. Erickson and his sons pray together before he's taken away by the FBI. Patty offers Ellen the new High Star case, but she refuses. Michael drops by Patty's office to provide a list of witness for his case against her. There is only one name on the list: Ellen Parsons.