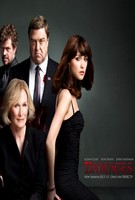 TV Info
---
Episode Premiere
August 24, 2011

Distributor
DirecTV, FX Network

Genre
Thriller, Drama, Mystery

Show Period
2007 - 2012

Production Company
FX Prod., Sony Pictures TV


Cast and Crew
---
Director
Glenn Kessler
Screenwriter
Josh Payne
Main Cast
Synopsis
---
Patty continues her therapy sessions with Dr. Baldwin who confronts her about her legacy. Boorman tells Erickson Nasim was deported. Boorman wants Erickson to make a decision about Sanchez-either keep him locked up or get rid of him.
Herndon meets with Patty and Ellen. They ask him to investigate the man in the photo (Boorman) who met with Nasim. Herndon advises them to leave it alone. Patty tells Ellen about Herndon's past attempt to take on the C.I.A.-it ruined his career. Patty must let Ellen run with things while she addresses the pharmaceutical case.
Michael meets with Patty, who has received his court summons. Patty warns him he doesn't want to fight her in court. Michael asks Patty to give Catherine a stuffed Panda to make up for missing Christmas and her birthday, but Patty refuses to take the gift to Catherine. Later, Michael approaches Catherine and Angel on the street and gives her the toy himself.
Ellen goes to the cemetery to meet Herndon's contact, who has information on Boorman, but he doesn't show. Herndon arrives home to discover the dead body of his contact on his front steps.
Patty deposes Coupet. He starts by trying to settle and mentions that it's important to the French government that the issue be resolved quickly. Patty refuses and begins the deposition. After receiving a call from Ellen, Patty tells Coupet she will accept a settlement, if he accepts her terms.
Erickson goes to Afghanistan and tries to reason with Sanchez. He reminds Sanchez about the code and loyalty. They argue and Erickson attacks Sanchez.
Patty and Girotto sign the settlement papers and Girotto gives Patty a flash drive containing intelligence from the French government. Patty and Ellen review the files and determine French received intel from Boorman up until early 2010. They deduce Dust Devil was shut down, but Erickson and Boorman continued with rogue missions.