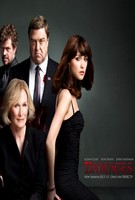 TV Info
---
Episode Premiere
August 17, 2011

Distributor
DirecTV, FX Network

Genre
Thriller, Drama, Mystery

Show Period
2007 - 2012

Production Company
FX Prod., Sony Pictures TV


Cast and Crew
---
Director
Timothy Busfield
Screenwriter
Jason Wilborn
Main Cast
Synopsis
---
Patty is still worried about Catherine's health. The nurse, Angel Auroro, suggests Patty tell Michael about Catherine's sickness. Patty shares that she doesn't know where Michael is.
Nasim is in a federal detention center. Patty, Ellen, and Herndon meet with the F.B.I. agent and are denied access to him. Patty tells Ellen that Nasim is now useless as a witness, because he was labeled a terrorist. Herndon tells Patty and Ellen the C.I.A. must have helped frame Nasim. They need to assume all calls are being listened to. The next step is to track down the mysterious man (Boorman) Nasim saw earlier at his mosque.
Erickson and Shaw meet with Department of Defence officer, Trent Prowse, who wants to make sure Erickson can handle the $100 million contract coming his way. Prowse explains the need for the increase in private forces as the military pulls out of operations. Erickson reassures Trent that High Star is capable, and shares information about the property he's buying from Edgar O'Malley. It will be the sight of the new training facility to handle High Star's increasing number of recruits.
Michael comes to see Patty and demands to see Catherine. He leaves giving Patty time to think about it. While Ellen is having dinner with Sean, she has an epiphany about tracking down the mystery man (Boorman). Ellen calls Patty from her old cell phone, knowing that it's tapped, and asks Patty to meet her in the park. Patty and Ellen meet while Herndon secretly takes photos of the area. Boorman is unknowingly photographed but not yet identified.
Patty tells Michael she knows of his past, and that he's not ready to be a father. He needs to prove it to her before he can see Catherine. Ellen finally agrees to speak with the Rolling Stone correspondent who's been trying to contact her for quite some time, and asks for his help in tracking down Chris in Afghanistan. Patty receives a court summons-Michael is suing her for custody of Catherine.