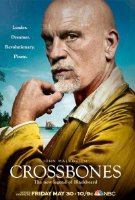 TV Info
---
Episode Premiere
August 02, 2014

Distributor
NBC

Genre
Drama

Show Period
2014 - 2014

Production Company
Universal Television, Georgeville TV


Cast and Crew
---
Director
Deran Sarafian
Screenwriter
Neil Cross
Main Cast
John Malkovich as Edward 'Blackbeard' Teach
Yasmine Al Massri
Richard Coyle
Claire Foy
David Hoflin
Tracy Ifeachor
Chris Perfetti
Synopsis
---
After Fletch tends to Lowe's wounds from the whipping, Blackbeard requests the surgeon's presence. He gifts Lowe a new set of clothes and, in a clear moment of mutual respect, comes clean with his long-brewing plan to surprise the unwitting Spanish fleet on open water and thieve their treasure. Lowe, impressed, agrees to accompany Blackbeard on the Reaver for the assault.
Blackbeard leaves Lowe for Selima to inform her that she will act as interim commodore in his absence. He then proposes to her, and at long last, she agrees to the marriage - with one condition. Instead of Lowe, he should take Rider. Blackbeard complies with her request, and Selima decides Fletch will be the ship's surgeon.
With the crew set, the Reaver hits the open seas and soon enough comes within view of their target - the massive Spanish fleet, equipped with over 1,000 guns and an even greater treasure. Rider and Blackbeard remain confident, knowing the element of surprise - and their secret arsenal of glass bombs - should aid them in the mighty fight to come. What they don't know, however, is that another surprise awaits... Jagger.
The ruthless Governor of Jamaica spots the Reaver and issues instructions to intercept immediately. But Rider spots his approach, and Blackbeard demands they abandon the original plan and engage Jagger. Rider balks, contesting Blackbeard's order, and he implies the commodore's blinded by a personal score and not thinking of the crew. The insult lands, and Blackbeard reacts swiftly - he stabs Rider in the gut and, before he tosses the pirate into the sea, he curses Rider's name as Judas. Did Blackbeard intend to kill him all along? Either the way, the crew receives no time to mourn Rider as Blackbeard sends barrels of gun power toward Jagger and an explosion sets the English ship ablaze.
Back on Santa Campana, Kate visits Lowe to deliver some uncomfortable news - she's pregnant and certain the baby belongs to Lowe. He responds with elation, optimistic that Balfour will accept the child into his life - but Kate rejects any notion of keeping it, as it would serve as a constant reminder of their betrayal. She wishes Lowe to perform the requisite operation, and he refuses, urging her to reconsider. Steadfast in her choice, Kate turns to Nelly for help and receives a poison in turn. Yet either the dose or the poison itself sends her into a state of delirium and sickness. Balfour finds her writhing on the floor, and when he brings Lowe over, the surgeon makes a quick assessment - she's dying. He offers up one risky solution: a blood transfusion. Balfour volunteers, but Lowe dismisses the thought - if Kate and the baby survive, he will not be the one who killed both a father and a husband. Balfour supervises the transfusion, and in due time, Kate shows signs of improvement, conscious enough to recognize that her husband and her former lover worked together to save her life.
Another save occurs miles away on the open sea, as smoke billows from Jagger's burned (but not sinking) ship. In his captain's cabin, he sneers over a new prisoner, demanding that he give up Blackbeard's location. Bloodied and weakened, the prisoner looks up -
It's Charlie Rider.