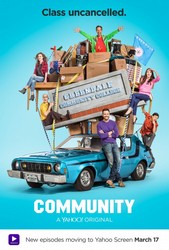 TV Info
---
Episode Premiere
April 04, 2013

Distributor
Yahoo, NBC

Genre
Comedy, Drama

Show Period
2009 - Now

Production Company
Krasnoff Foster, Sony Pictures Television


Cast and Crew
---
Director
Tristram Shapeero
Screenwriter
Jack Kukoda
Main Cast
Synopsis
---
In an effort to distract the Greendale student body from the CDC confiscating their water fountains, Dean Pelton plans to throw an old-fashioned sock hop in the cafeteria. Better yet, it's a Sadie Hawkins dance - girls ask the guys! Britta finds Dean Pelton's idea to be sexist and sets out to throw a protest dance of her own that helps empower women.
To honor a pioneer of the women's rights movement, Britta names her event the "Sophie B. Hawkins dance," though the gang quickly corrects her on the mistake. She must have meant Susan B. Anthony and not the mildly successful '90s singer. Britta insists she meant Sophie B. Hawkins, not wanting to admit her mistake. Now backed against the wall, Britta sets out to convince the singer to come to her dance.
Abed is trying to branch out and expand his social horizons, so Annie asks if she can set him up with a date for Dean Pelton's dance. Shirley is also convinced Abed would hit it off with some of the ladies from her church, and she doesn't see why both girls can't find dates for Abed and just let him decide. Suddenly, a competition has arisen. Annie finds Abed a quirky girl named Kat, while Shirley brings in someone from her church. Abed secretly agrees to both, anxious to partake in a classic "two dates in one night" sitcom trope.
Britta is having an awful time planning the dance. She even goes to Pierce for advice, who tells her to never, under any circumstance, admit Jeff was right. On the night of the dance, however, Jeff is quick to poke fun at Britta for posting a Craigslist ad an hour before the dance asking if anyone's seen Sophie B. Hawkins. There's just no way Britta can get the singer to show, and Jeff is relishing every moment of her failed dance venture.
During the dance, Abed frequents the coat check closet so that he can change from one outfit to another in order to keep his two dates in the dark. He hams up his quirkiness for Annie's Kat and projects his devout spirituality to Shirley's Jessica. But as the night progresses, Abed begins to work up a playful relationship with Rachel, the girl running the coat check. She agrees to help Abed with his scheme.
Dean Pelton finds Britta and lets her know, in a not-so-subtle manner, that a failure on Sophie B. Hawkins' part to show up would by all means be devastating for the Greendale student body. Britta knows the singer isn't coming and prepares herself for the expected humiliation from her peers. She undoubtedly "Britta'd it."
Annie and Shirley both meet up with each other, eager to rub their success in the other's face. But when they both brag about Abed's new catch, they realize he's pulled a fast one on both of them and is truly on two separate dates. Meanwhile, Abed is having way more fun pulling hijinks with Rachel than he is with his two dates. Unfortunately, he doesn't seem to realize what's right in front of him until it's too late. Rachel slips away and goes home when Abed gets caught up with his two blind dates.
As the night draws to an end, the entire dance begins to chant Sophie B. Hawkins' name, though no one appears on stage. Britta failed. Then, inexplicably, Sophie B. Hawkins shows up and rocks out the Greendale cafeteria. Somehow, Britta "Britta'd it" - in a good way! Jeff is beyond confused by how she pulled it off.
Abed apologizes to Annie and Shirley after he realizes the error of his ways. He was intent on personal growth, but after seeing the two so excited about setting him up, Abed didn't want to let them down. Annie and Shirley apologize for forcing the dates on him and urge Abed to go after Rachel before his window of opportunity closes. As Sophie B. Hawkins performs, Abed steals the mic from her and professes his infatuation with Rachel. When he hops off the stage, Rachel finds him in the crowd and asks him on a date - success!
Jeff finds out Pierce pulled some strings to get Sophie B. Hawkins to the dance; he was so impressed by Britta's determination, he couldn't let her fail. Plus, Jeff was being such a jerk basking in her failure that Pierce had to step in. Jeff needs to let Britta just be happy sometimes. Jeff sends Britta an earnest text congratulating her on a dance well planned.