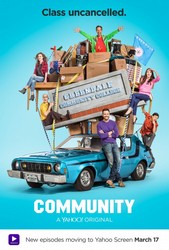 TV Info
---
Episode Premiere
March 21, 2013

Distributor
Yahoo, NBC

Genre
Comedy, Drama

Show Period
2009 - 2015

Production Company
Krasnoff Foster, Sony Pictures Television


Cast and Crew
---
Director
Tricia Brock
Screenwriter
Tim Saccardo
Main Cast
Synopsis
---
Dean Pelton needs the group's help recruiting a "whale" for Greendale - the Dean's term for a rich slacker who has the potential to spend year after year putting money into the school. Archie is 22-year-old slacker who spent seven years in high school, and his parents are loaded! The gang agrees to do their part, mainly because they want the rewards of an influx in money too; the biology wing has been dissecting the same pig for 10 years.
The great whale hunt is on, and Dean Pelton assembles quite the day for young Archie. But the school board has more nefarious plans for Archie's visit - including strippers, drugs and crazy frat parties. Though morally dubious, the school board wants to land this whale by any means necessary.
When Archie's tour day arrives, all preparations are almost ruined when Pierce shows up - but Jeff falls on the sword and agrees to hang out with Pierce for the day. However, when Dean Pelton finds out Archie got a brand new Vespa from another potential college, he ditches his civil plans in favor for the school board's suggested, outrageous sales pitch.
Meanwhile, Shirley and Troy have their first P.E. class, or at least what they THOUGHT was physical education. The class is actually physical education education - or the art of how to be a P.E. teacher. Wherein traditional gym class Troy would've thrived, the disciplinary nature of P.E.E. has made Shirley the teacher's pet. Troy, the worst student in the class, has trouble adjusting to his inferior role on the P.E.E. food chain.
Archie is having an amazing day at Greendale thanks to Dean Pelton's outrageous recruiting strategy. The Dean calls strippers into the cafeteria; balloons fall from the ceiling, and an impromptu dance party breaks out. This is the coolest school ever!
Archie has made his decision: He's "about to get all up in this Greendale" - which is moron for "he's enrolling." Dean Pelton pulled it off, although he basically had to sell his soul in the process. But a line is crossed when Archie demands control of Magnitude's catchphrase, "Pop-Pop." Dean Pelton makes Archie's wish come true, but the sadness in his eyes, as well as in Annie's, is evident. The school might be getting a big donor, but it is losing its identity in the process.
Shirley comes to Troy's side after his poor P.E.E. performance gets him depressed. She realizes it's not about the survival of the fittest in class, but about helping one another out. Together, the two train Chang in a bizarrely beautiful montage sequence. Elsewhere, Jeff feels bad about misleading Pierce and tells the rest of the group to start being nicer to the guy. When Dean Pelton and Annie stumble upon Magnitude, now strung out from trying to find a new catchphrase, they realize the scale of their indiscretions.
Dean Pelton wakes a passed out Archie to let him know the Greendale they showed him... that's not the true Greendale. The true Greendale is an upstanding, middle-of-the-road community college, and if Archie wants a place that gives him special treatments, well then they're not for him. Archie decides to stay, thankful that someone is treating him like a normal human being for once.