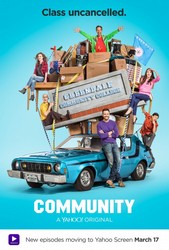 TV Info
---
Episode Premiere
March 14, 2013

Distributor
Yahoo, NBC

Genre
Comedy, Drama

Show Period
2009 - Now

Production Company
Krasnoff Foster, Sony Pictures Television


Cast and Crew
---
Director
Jay Chandrasekhar
Screenwriter
Hunter Covington
Main Cast
Synopsis
---
Ben Chang has mysteriously returned to campus, but he's suffering from a cryptic ailment known only as "Changnesia." Chang, now calling himself Kevin, cannot remember any part of the last six months, which is probably good for everyone. But, in order to win a prestigious grant from the MacGuffin Neurological Institute, Dean Pelton enlists Abed to make a propaganda documentary about "Kevin's" new affliction.
The MacGuffin Institute is coming to Greendale on Friday, as they may be awarding them $40,000 to study "Changnesia." Not one to forget about the time Chang tried to kill everyone in the group, Jeff is wildly opposed to the MacGuffin grant campaign. He seeks out Shirley for help, but is devastated to learn that she, like everyone else in the group, is on Kevin's side. Shirley's hired Kevin to work at her sandwich shop.
Jeff is convinced "Kevin" is faking his Changnesia and infiltrates the group's MacGuffin campaign as a means of exposing Kevin's lies. Jeff thinks it's important the group realizes how terribly gullible they are; he talks Annie and Troy into investigating Kevin's life before returning to Greendale. Shirley and Britta set out to film Kevin's every move, so they can really begin to understand the "disease."
Troy and Annie, embracing their archetypal roles as detective partners, visit the place where a local postman originally found Kevin: Sullivan's Trout Farm. At the farm, the duo's unorthodox interrogation techniques inadvertently lead to the owner admitting in full that he used Kevin as unpaid labor before the postman found him.
This is bad news for Jeff: Annie and Troy were supposed to find a smoking gun, not uncover a human trafficking violation. Jeff is still convinced Kevin's hiding something and resorts to reviewing Abed's hours of footage in hopes of finding something juicy himself. After watching tons of worthless material, Jeff finds a small clip of Kevin making a secret phone call.
On the day of the big presentation for the MacGuffin Institute, Jeff unveils his findings about Kevin. In an ambush, Jeff brings out Chang's wife and reveals her to be the person Kevin was calling! The audience is shocked; Kevin was faking it! But Kevin launches into a foolproof sob story explaining how he found the number, and he kept hanging up because he was too afraid of rejection from the person on the other end. Everyone buys Chang's story hook, line and sinker.
In a last ditch effort, Jeff grabs Chang's wife and kisses her passionately. If Kevin can't remember her, then Jeff kissing her would have no effect on him; it's flawless logic! But everyone in attendance is outraged, and the presentation erupts into chaos. The MacGuffin Institute, seeing the disorder, tells Dean Pelton he'll need all the help he can get moving forward. They award Greendale the grant, leaving Jeff incredulous.
Jeff feels badly about what he did and has a change of heart regarding Kevin. He apologizes to the group and even clears things up with Kevin himself, admitting he was wrong. Kevin is quick to forgive him, and the two shake hands in hopes of starting anew. But as Kevin walks away on his own, he makes a sinister phone call, telling the person on the other side that "they bought it: hook, line and Winger!"