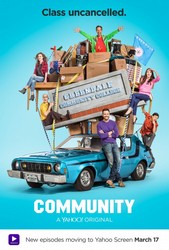 TV Info
---
Episode Premiere
March 07, 2013

Distributor
Yahoo, NBC

Genre
Comedy, Drama

Show Period
2009 - Now

Production Company
Krasnoff Foster, Sony Pictures Television


Cast and Crew
---
Director
Tristram Shapeero
Screenwriter
Steve Basilone, Annie Mebane
Main Cast
Additional Cast
Synopsis
---
It's Thanksgiving at Greendale! The gang grumbles about their respective family commitments, upset to be spending yet another year with their families. Shirley proposes a plan - what if they all join her for Thanksgiving instead?! It's a unanimous decision, except for Jeff, who has other plans. He begrudgingly reveals his secret: Jeff is spending Thanksgiving with this estranged father. The study group is floored - this is HUGE news. Britta proudly takes responsibility as the catalyst for this huge step and insists that she join Jeff as a buffer for his big day.
The gang arrives at Shirley's on Thanksgiving, Abed with a 2-year-old disgusting seven-layer dip (he was waiting for the right occasion to break it out). They're immediately overwhelmed by Shirley's in-laws, and suddenly their respective family commitments aren't looking so bad in comparison! Pierce, Abed, Annie and Troy convene in the garage to hide away from the madness; the tension and judgmental comments are just too much to handle. Abed states what's on everyone's mind: they need to do a prison break.
Meanwhile, Jeff arrives at his father's doorstep, ready to face the music. But he wusses out at the last second and drives off, calling Britta. Britta makes a confession herself - she's actually at Jeff's dad's house right now, so he pretty much has no choice but to show up! Jeff finally faces the music and meets his father, who's the spitting image of an older Jeff Winger. He's pleasantly surprised by how stress-free the whole evening is turning out to be - both men are no-nonsense about the whole reunion. But Jeff's younger half-brother, Willy Junior, isn't so calm and collected. In fact, the whole situation is sending him spiraling to a full-blown mental breakdown, and he's convinced that Jeff's there to replace him.
Prisoners of the Thanksgiving dinner from hell, the gang takes turns hiding out in the garage. Eventually they can't take it anymore and come up with a new strategy. What if they made themselves sick? Not fake sick - the real deal. The gang eyes Abed's rotten seven-layer dip, horrified, but knowing that it's the only way out.
Back at a very different Thanksgiving, Jeff and his dad are getting pretty comfortable with one another. Jeff's dad notes that Jeff is an independent man, self-reliant and well adjusted. Maybe he did something right after all, since leaving him made him so self-sufficient and successful. This sends Jeff over the edge - he tells his dad to go to hell and storms out.
Shirley walks in on the gang in the garage, right as they're about to bite the bullet and eat the rotten seven-layer dip. She confesses to the guys that she invited them as a buffer, because she's always been the butt of the joke with Andre's family. She was hoping that maybe with her friends there, the whole process would be a little less painful. The gang feels guilty for being ignorant to her suffering and decides to stick out the dinner by Shirley's side.
As Jeff drives off he realizes that he has a stowaway in his car - none other than his half-brother, Willy Junior. Willy plans to run away, but Jeff tries to convince him otherwise. He meant the world to Willy, but Willy meant nothing to him. And if he runs away now, Willy's dad will never know how he truly feels. Jeff realizes that he's also talking about himself and turns the car around to give his dad a piece of his mind.
Jeff arrives back at the house and makes an impassioned confession to his dad. He admits that he's not well adjusted; more often that not he's barely keeping it together. Jeff tells a heartbreaking story of faking appendicitis as a child just to get attention from his classmates, and it drives his insensitive father to fake a heart attack - the classic Pierce go-to move. Jeff realizes his father won't change, but at least he got to say his piece.
Back at school, Jeff surprises the gang with a full Thanksgiving dinner in the study room. He makes a heartfelt speech, telling the group that he thought he should take some time and be grateful for his real family - the one he chose.