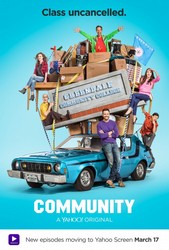 TV Info
---
Episode Premiere
April 05, 2012

Distributor
Yahoo, NBC

Genre
Comedy, Drama

Show Period
2009 - 2015

Production Company
Krasnoff Foster, Sony Pictures Television


Cast and Crew
---
Director
Tristram Shapeero
Screenwriter
Andy Bobrow
Main Cast
Synopsis
---
The 2012 pillow fight at Greendale Community College is the longest and largest pillow fight in community college history. A rift in two students' friendship threw the school into a two-and-a-half-day-long conflict, resulting in hundreds of dollars in damages and 12 school transfers.
The two students, Troy and Abed, were best friends, but an attempt to break the Guinness Book of World Records for biggest fort tore them apart. Troy's insatiable desire for expansion through use of blankets opposed Abed's belief in quality over square footage. Irreconcilable differences in use of pillows versus blankets for "New Fluffytown" sparked major conflict. Study Room F, 3:00 p.m., the first pillow was swung.
"The Study Room Kerfuffle" created a fissure in the friendship. All attempts at mediating failed. Troy left the intervention with the threat of a midnight attack hanging in the air.
With Pillowtown residents cuddled amongst the fluffiness, the citizens of Blanketsburg viciously attacked. The first battle lasted a full six minutes, leaving no ground gained for either side.
Across the campus, students engaged in pillow-to-pillow combat. Shirley Bennett's Fighting 409th Battalion was charged with the overthrow of war veteran Leonard "Bucket of Guts" Rodriguez. Skeptic Jeff Winger joined the battle, rallying Troy's troops into a frenzy. Later, he would admit to prolonging the conflict to further postpone schoolwork.
Annie Edison, former roommate of Troy and Abed, focused on humanitarian efforts throughout the conflict, tending to broken glasses and lightly grazed testicles. Text messages between her and Winger revealed Winger's intent to extend the war by emotionally stirring both sides.
Pierce Hawthorne, desiring glory, offered a weapon's design to Abed. Rumors of Hawthorne's weapon reached Troy, so he enlisted the help of Greendale's chief of security, Ben Chang. Chang and his preteen interns, nicknamed the Changlorious Basterds, descended upon Pillowtown and attacked anything that wasn't a blanket.
Abed was finally forced to release the Doomsday device: Pierce Hawthorne in a virtually indestructible pillow-suit. The Changlorious Basterds retreated.
An email between Abed and his commanding officers was intercepted, outlining Troy's emotional weaknesses. In reply, Troy sent Abed a text message, reminding him he was the only one with the patience for Abed's antics.
Attempting to regain his honor and Annie's respect, Winger arranged a secret meeting between Troy and Abed. A potential peace agreement was never reached, as the two former roommates and friends agreed the winner would keep the apartment.
Forces concentrated in the cafeteria, the location of the impending Guinness Record visit. A whistle blew. Dean Pelton announced the Guinness representative was fired and, therefore, not coming. The great pillow fight was over, as it had no reason to continue. Yet, Troy and Abed continued to hit each other for hours. Only when Winger placed magical friendship hats on them did the war finally come to a close.